Today's hospitals are complex systems that encompass numerous components, hospital inventory being the key one. It contains data on the availability or shortage of medications and other medical supplies a healthcare organization uses along with their exact location.
Every provider runs their inventory differently, some use Excel sheets and manage them manually while others go for a more advanced solution – hospital management software. Let's look at the tool, how it works, and how adopters can ensure its efficiency.
What is a hospital inventory management system?
A hospital inventory management system is a multi-layer software solution aimed at helping clinicians keep track of medicine, medical products, equipment, and workflows.
Medical products cover a wide range of items, from disposable syringes to expensive implants and surgical kits. These higher-value consumables make up the lion's share of the hospital's budget so tracking medical inventory is crucial for efficient financial management. Sound inventory management solutions can not only streamline care delivery but also prevent or mitigate such issues as:
Product stockouts and stockpiling
These two problems are closely related. Quite often, doctors and nurses order more medicine and medical products than they need for fear of stockouts. As a result, hospitals waste money on items that pile up on the shelves for months or years. Amidst the pandemic, the Canadian government purchased 40K ventilators for $1bn and only a tenth of them were put to use.
Drug theft or diversion by medical personnel
Unlike blank theft, drug diversion is a devious method of tampering with medicines. This was the case with a nurse from a fertility clinic in Connecticut, who tampered with three-thirds of fentanyl dosages given to patients from June to October 2020. The nurse replaced the medicine with saline, which caused pain during surgeries in 20 patients. Sadly, such instances in hospitals and clinics often go unreported.
Clinicians' burnout
One of the biggest problems in recent years is the amount of time and effort required from clinical teams for some of the routine tasks. According to the Physician Burnout and Wellness Survey by Medical Economics published in September 2021, about 80% of physicians felt burnout right at the moment they took the interview. Interestingly, over half of the participants named paperwork and constant overload as their top two burnout factors:
So what features does an inventory management system have to prevent or mitigate these issues?
Key features of hospital inventory management software
A handy inventory management system offers five basic features that help maintain control over hospital supplies. These features include:
Stock tracking. This feature turns lengthy manual search into a thing of the past, introducing automation in healthcare. It allows a user to check a particular item and stay up-to-speed about its status at any time with a click. In many cases, users can also set up alerts to get timely notifications about the item status.
Administration panel. This feature allows users to view the history of operations on inventory items, its performing actors and the changes they introduced. This panel also makes the item's journey across the facility transparent for the staff.
Locating goods. In a hospital setting, an item risks being misplaced due to a number of reasons, but this feature allows clinicians and nurses to know the item's exact location. Goods locators help prevent some dangerous situations, like when a medication is required without delay, but neither the staff nor the doctor in charge knows where it is.
Expiration and reorder alerts. Ordering medical goods in surplus is a common practice in healthcare organizations. However, this approach can cause unused medication and healthcare products to pile up in the hospital inventory, as doctors and nurses unanimously claim there are thousands of expired devices in their clinics' inventory. To prevent such situations, hospital inventory tools employ expiration alerts that inform users which drugs are nearing their expiry dates before it's too late. Likewise, the system lets users know when some medication or item needs to be refilled before it's out of stock.
Order control panel. Using this feature, doctors and nurses can track and control their orders from one place. Using medical inventory software, doctors and nurses can create a list of products to order with the required quantities and visualize each order summary and status on a handy dashboard provided by healthcare BI. Besides, this feature allows clinicians to create consumption reports encompassing the stats for the past 30-60 days which can help providers adjust their procurement strategies accordingly.
The functionalities described are helpful, but how are these systems built? We'll consider this aspect below.
The architecture of a hospital inventory management solution
Hospital inventory management tools comprise three basic components:
A web and a mobile application that let hospital nurses and clinicians interact with the inventory effectively
A connected ecosystem that enables item tracking and status monitoring;
Integrations with digital systems in place that power informed decisions.
1. Web and mobile solution
A typical hospital inventory software is a web application consisting of three layers or tiers:
Presentation tier
Server tier
Data tier
Here's how it looks:
As we have already said, an inventory management system should allow users to track the ID and location of diverse medical goods (medications, medical devices, disposable items, and more). So what tech to use for tracking?
2. RFID technology
Radio frequency identification (RFID) technology has seen a surge in implementation for tracking assets in several industries, including healthcare, and employs wireless communication to identify and track people, goods, and equipment:
In the healthcare industry, a smart hospital is a bright example of RFID technology's implementation, creating a connected ecosystem that enables tracking. Tagging hospital supplies helps track their usage and ensure swift check-out and check-in for medical personnel. Adding tags on inventory items also prevents theft and losses, thus reducing the inventory cost for providers. It also streamlines the maintenance of the equipment and helps assigned specialists monitor the lifecycle of expensive hospital items.
3. Required integrations
A modern hospital is an intricate system with a whole set of important components, all producing disparate but vital data.
Inventory management software is a complex solution that requires integration with several internal systems – EHR (to notify doctors about the availability of medicine for each patient), lab software, emergency room solutions, and others. In addition, inventory management software is also integrated with mobile healthcare solutions for doctors to inform them about the needed devices promptly.
Hospital inventory management benefits
Automated hospital inventory management offers providers a range of benefits that help solve some critical industry challenges. Let's see how it works.
Expenditure control
US healthcare costs are enormous. As Statista predicts, national health spending is set to increase from 2021-2028, reaching over $6bn in 2028:
The same expense scale translates to hospitals. According to Medicare Cost Report 2020, US hospitals' spending on medical and surgical supplies has reached $40bn, annually. For individual hospitals, there's a concerning tendency: the smaller the hospital, the greater the cost of supplies for them:
And as we remember from the example with ventilator delivery in Canada, the lion's share of this spending is in vain, as a rule. What's more, DefinitiveCare researchers found out that the cost of medical and surgical supplies steadily increases by 5% each year. 
With a hospital inventory management solution in place, the purchases "for a rainy day" and stock-outs are reduced to a minimum and increasing costs are kept at bay.
Besides, employing RFID for asset tracking can help hospitals save up, too. Thus, BJC HealthCare in St. Louis, Missouri, managed to save $1.5 million during the first six months of hospital management software operation. Likewise, Emory St. Joseph's Hospital in Atlanta, Georgia, reduced their spending by $300K.
Improved visibility
One of the most significant drawbacks of traditional inventory systems is that only a limited number of people can view the overall stock level. This can cause avoidable shortages and unnecessary spending. With inventory management software enabled with healthcare IoT, you can track inventory and stock levels in real time. Administrators will also gain more control over inventory access and ensure that stakeholders who need visibility have it.
Streamlined workflows
Automated inventory management allows clinicians and nurses to clearly view the key attributes of their tasks, namely, who is responsible, what they should do, when, and with whom. Simple and reliable hospital inventory management software can improve staff efficiency. Having a step-by-step workflow account right at their fingertips in a mobile or web app, hospital employees streamline their work. Hence, an automated inventory management solution takes a lot of administrative burden off doctors' shoulders and provides them with the tools they need to improve the quality of care they offer to their patients.
Employing RFID tags helped Adventist Health White Memorial in Los Angeles, California speed up the turnaround time in their operating room by 24-27 minutes. Thanks to the solution, surgeries start without delays, which helps reduce wait time. 
Improved security
A hospital inventory management solution ensures three-layer protection of the data it transmits:
Level 1 Application. The security of the communication channel is ensured;
Level 2 User. This layer is of special importance for device control and tracking via a smartphone, as it checks the user validity via multi-factor authentication;
Level 3 Connectivity. This layer ensures that the system is always able to exchange data and send alerts.
Besides, authorized system users add clear check-in and check-out mechanisms to prevent bottlenecks that hamper service delivery and patient outcomes. Hospital inventory management solutions also allow authorized users to trace the ownership of all assets in a centralized database.
Moreover, an inventory management system makes it easier to track and monitor the use of tools, reducing the likelihood of fraudulent activity. Thanks to a strong security system, doctors can track each asset's journey across the facility and the people who moved it around and find lost items swiftly, preventing theft.
Need to upscale your hospital management?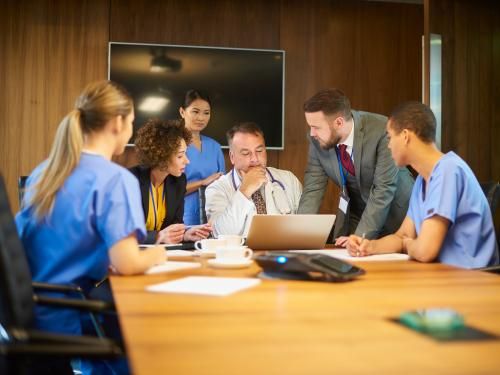 Hospital management software
Our expert team will deliver bespoke hospital management solutions that improve inventory, laboratory, staff, ward, data management and more with automation.
Hospital inventory management: 3 FQAs
We've collected three popular questions medical professionals and stakeholders may have regarding hospital inventory management systems.
How can we manage hospital inventory?
Today experts distinguish two types of inventory management— periodic and perpetual. Periodic inventory management is most often performed manually in Excel sheets and is usually nurses' responsibility. They check the sheets every six months or so in search of outdated medications and medical devices in stock. This lengthy and tiresome process is riddled with human errors of varying severity.
Perpetual inventory management is an ongoing process via a dedicated software solution. Such a tool manages the inventory automatically, with minimized human involvement. When properly managed, it helps automate the inventory workflows to provide quality service by preventing shortage situations in time. In our article, we discussed such systems in detail.
How do you measure medical inventory efficiency?
To understand whether your solution is effective, it is enough to look at one parameter - Inventory Turnover.
Inventory Turnover = Cost of Goods Sold/Cost of the Inventory
As inventory turnover is the ratio between the cost of items used and the overall inventory cost, which makes it a great resource for measuring inventory performance. If the ratio is low, you have been stockpiling. In case the ratio is too high, you have a shortage of some items. The key to success is maintaining the balance between the two values.
Is inventory management critical for a hospital?
For a healthcare provider, effective inventory management is just as important as the quality of services they offer. First of all, it helps reduce the inventory cost, because instead of acquiring medical goods by guessing, the responsible parties can rely on the reports and alerts. As a result, stockpiling and stockout cases are minimized. Besides, strict security measures assist clinicians with detecting suspicious behavior in medical staff and preventing item theft.
Wrapping up
Surviving in the healthcare industry is not an easy task. Providers and medical personnel have to deal with a range of challenges daily. Among the most prominent ones are:
Inventory cost and efficient management
Clinicians' overload and burnout
Security of sensitive information
Luckily, hospital inventory management software can help providers mitigate these challenges and reduce their detrimental effects. By automating inventory management, providers can free up their staff from the need to track assets manually, which helps lower their workload and the associated stress.
The systems enable multi-level data security and item tracking across the facility. Thanks to the solutions, medical professionals can stop worrying about lost instruments and medicine, because RFID tags allow users to find them in seconds. Besides, hospital inventory management solutions can help clinicians speed up item delivery to the care point, thus reducing patients' wait time.
Last not least, with an inventory management solution in place, hospitals can lower the number of stockpiling and stockout cases. This can help reduce the inventory cost and allocate these funds to solving other critical issues a hospital typically experiences.