Introducing monetary incentives for adopting EHR systems and penalties for their absence, the HITECH Act of 2009 defined the future of electronic health records – sooner or later, EHR services had to become an integral part of healthcare providers' digital mix. For some types of healthcare organizations, this quickly became a reality: more than 90% of acute care and children's hospitals had adopted some kind of an EHR system by 2021. Others, however, were not so eager to follow the trend.
So why do some healthcare providers dismiss EHRs as a nuisance, while others praise them for positively influencing their relationships with patients and business success?
Mainly, it all comes down to how the EHR was implemented. Poorly handled adoption of this software can disrupt an organization's processes, spoil the experience for patients and personnel, and cause financial losses. In this article, we'll explore in detail what a healthcare provider needs to know about an EHR implementation to enhance their chances for success and avoid common pitfalls.
What is EHR implementation?
EHR implementation encompasses all actions needed to integrate electronic health records into an organization's workflows: choosing the right solution and tuning it to specific requirements, connecting it to the existing IT ecosystem, training users, and carrying out tech support and upgrades.
Why is EHR implementation important?
Electronic health records are known to help medical professionals make better clinical decisions, enhance communication with patients while optimizing the cost of care, and improve medical data management. Not to mention, practitioners that don't use modern patient record-keeping methods may face licensing issues and financial penalties as they don't adhere to the industry's security regulations. However, to reap all of the mentioned benefits, EHR has to be properly set up, integrated into the organization's ecosystem, and introduced into relevant processes.
How long does EHR implementation take?
The time needed for a successful EHR implementation depends on many variables, including its feature scope, integrations, and potential users. The implementation team usually calculates the approximate EHR implementation timeline for your particular case, but it still can change a bit down the line if unforeseen circumstances arise.
What is needed for EHR implementation?
Adopting EHR requires careful planning, collaboration, and coordination across the involved departments. You need to assemble a team of in-house specialists responsible for the EHR implementation process (ideally it consists of a lead superuser, a lead physician, a project manager, and an IT department representative) and choose the service provider who can meet your project needs. 
When planning your EHR implementation budget, make sure to take into account a variety of cost factors. Both the cost and the duration of EHR implementation depend pretty much on the same elements: the complexity of the software, the size of the team needed, the number of required integrations, etc.
Challenges and risks of EHR implementation
Despite all the arguments in favor of EHRs, many healthcare providers have spoken up about the barriers to EHR implementation and have valid reasons to be cautious.
Additional workload
It turns out, EHRs are rarely convenient for their prime users – medical professionals. According to the 2019 study by Definitive Healthcare and Vocera, about 77% of clinicians believe that having to deal with EHRs is one of the major contributors to burnout as they cause cognitive overload. It doesn't help that EHR usability levels are in many cases insufficient. A 2019 research by Mayo Clinic and the American Medical Association discovered that this parameter was rated with a discouraging "F" by the majority of the 5,000 participating clinicians.
Right now, it feels like physicians are a slave to their EHRs. There's a high amount of burnout – emotional burnout, depersonalization, and a low sense of professional accomplishment.
What's more, EHRs distract practitioners from their patients as the former have to pay much attention to correct data entering. As a result, clinicians spend more time on "desktop medicine" and less on face-to-face conversations with their patients. This lack of focus may worsen the quality of care and patient experience.
Poor data governance
EHRs are widely commended as great sources of clinical data about each patient, which can be used for driving insights with healthcare BI. Sadly, the quality of this data is often questioned, as about 18% of digital health records are duplicates. This signals some problems with patient matching, which is often done manually. As a result, patients risk getting irrelevant treatments, which may damage their health.  Fortunately, these issues can be mitigated or resolved with the help of electronic records management.
Patient data loss
One more issue revealed itself vividly during the pandemic – EHR interoperability. Before, doctors argued that EHR systems were not that interoperable, and that patient data transfer from one system to another still had to be manual. But during the COVID-19 crisis, doctors simply have no extra time to invest in such tasks. At the same time, tracking symptoms and outcomes in large patient populations with the help of EHR and healthcare big data analytics is critical. This prompted vendors to look for EHR redesign options.
Сloud vs on-premise EHR
Before you initiate EHR implementation, it is crucial to determine how your EHR software and data will be hosted, because once it's adopted, EHR becomes vital to a healthcare organization's operations and quickly accumulates large quantities of highly sensitive data. Carefully consider each EHR type's strengths and weaknesses in application to your unique needs.
 
On-premise
Cloud-based

Pros

Optimal for organizations with a poor-quality internet connection

All data in one place

You don't have to rely on a third party for data security

Small upfront costs

More flexible and scalable

Fewer runtime errors

Fast and effective vendor IT support

The provider takes care of data security and backup for you

Cons

Cannot be accessed from anywhere

Cannot be integrated with some apps, particularly cloud ones 

Regular backups and disaster recovery plan is your responsibility

Higher risk of a data breach

Requires access to the internet

Fewer data management and control options
7 steps for successful EHR implementation
We've gathered the essential EHR implementation steps providers need to take to overcome common roadblocks and ensure a smooth transition to using an EHR.
1. Involve medical specialists
Introducing EHRs influences every process inside a healthcare organization. To minimize hindrances to a tolerable minimum and avoid potential pitfalls, determine EHR implementation team roles for specialists from various departments. Sounds crazy? We don't mean clinicians need to drop their stethoscopes and rush to some programming courses. They just need to monitor the development and combat the natural resistance to change to facilitate EHR adoption. 
Dr. Andrew Pecora from Regional Cancer Care Associates (NJ, USA) visited some large EHR vendors and was surprised to discover they didn't involve clinicians in their product development:
Computer scientists are great people, but they're not physicians, they don't think like physicians…and yet they made the EHRs. I think, [they] have to get physicians way more involved. The note, the use of the EHR, the flow of the content should be intuitive to the specialty and the care that needs to be provided at that point in time for that particular patient.
So this step is about gathering a team of specialists who will collaborate with a development provider's team in order to create EHRs tailored to actual clinical workflows and specifics.
2. Map out the workflows
Before heading to the EHR adoption process, it's necessary to examine the clinic's processes and how EHRs can be used to improve them. As a rule, the workflows that involve several clinicians or teams make top candidates for a redesign. When at it, clinicians shouldn't use lengthy and wordy descriptions but instead go for easy-to-read flowcharts.
Workflow mapping usually involves five stages, from setting the start and end points to the analysis of the current situation and drafting routes for improvement. The most common measures here involve eliminating redundant steps, reducing delays and queues, and more.
3. Choose a vendor and create an EHR implementation roadmap
Now that the main points for improvement are fully visible, healthcare providers can create a clear list of requirements for future EHR and potential implementation challenges, which can be used as a starting point for software vendors to calculate the approximate time and budget needed for the deployment. 
After negotiating with the IT vendor and signing the contract, the internal implementation team starts working with them on an implementation plan. It may slightly change over the course of the implementation process, as a provider may propose ways to make it more efficient or some additional measures like training and setting up a remote disaster recovery site for crucial data.
4. Improve usability on the go
You need to make sure that the focus group consisting of clinicians is involved in the EHR implementation from start to finish, not only during the planning stage. These professionals are more likely to detect flaws and potential issues, from time-consuming digital chores to potentially deadly situations, like incorrect drug dosage due to misspelled units of measurement. During all stages of EHR implementation, clinicians inspect the system and submit their feedback to the development team.
Once the system is up and running, providers can have another look at its usability with the help of summative testing. These tests include expert review, performance testing, usability testing, and risk assessment. They can assist providers in evaluating the cognitive load, efficiency, effectiveness, time costs, and other EHR usability parameters.
For vendor-provided EHRs, there's another way to assess usability – the system usability scale (SUS). Vendors prepare questionnaires that ask users to answer 10 questions about the product's usability. The answers are then ranked using a 100-point scale, where 100 is the top grade. 68 points make an average benchmark response, according to a study.
It's important to keep in mind that EHR usability is not a stable parameter, and deploying new EHR features may alter it. That's why regular usability tests are necessary.
5. Migrate data
A data migration roadmap may take many forms: you might transfer records from paper to EHR, from an old system to a new one, from a locally hosted to a cloud-based EHR, and so on. It is a complex process that requires vigilance, because low-quality or broken data can affect the functionality of the entire system and further compromise other operations.
When data migration is a part of a larger implementation roadmap, steps might change, some might be eliminated, or executed at different times. In the end, they have to contribute to the smoothness of the implementation.
6. Train your personnel
Patient record digitalization rarely goes smoothly. For medical professionals, the transition to paperless medicine signals the need to change their well-established workflows and practices and adapt to the new technology swiftly. To make the transition seamless and reduce the related stress, providers need to lend clinicians a hand and offer EHR training courses.
Using EHR software is all about sufficient computer skills. So in order to design a helpful training program, providers need to evaluate the clinicians' level of computer literacy first. Nowadays, there are numerous online tests that check basic skills, so there's no need to develop custom questionnaires. The test will also help to select the most tech-savvy clinicians and assign them as mentors, which can speed up the training process.
When it comes to the training itself, it's important to remember that you train basic users, not experts. So it's vital to show them the most widely used commands and make sure they are able to execute them. When clinicians get comfortable with the basic EHR functions, they can move on to more complex tasks. This cumulative learning method proved efficient at St. Vincent's Health in Indiana: this medium-sized network reduced the training time by 50%.
Pre-training has yet another benefit. As we know, personal health information often becomes the target of hacking attacks that cost healthcare providers billions of dollars. Luckily, some attacks are preventable, provided that clinicians know their enemy. Thus, increasing cybersecurity awareness can help prevent phishing and spoofing that have recently topped the list of threats, according to BakerHostetler's 2020 Data Security Incident Response Report.
7. Keep the improvement going
So your EHR system has been successfully deployed, can you call it a day? Not yet.
There are always some more promising improvements to explore and implement. Some of them, such as making EHRs telemedicine-ready, can help combat today's challenges, like the COVID-19 pandemic. It is also possible to solve some recurring EHR challenges via EHR migration, since a cloud-based EHR can for instance spare the owners the worry about the ever-growing volume of patient data to store.
Other EHR improvements can involve a major revamp of the tool, for example, adding preventive care provision capabilities. These upgraded EHRs can deliver the overall picture of patients' health and provide templates for creating personalized care plans. For patients, these next-gen EHRs can provide holistic care plans with measures addressing all of their health issues. What's more, this type of EHR may contribute to healthcare interoperability improvement by granting access to cross-system data via a user's private key, similar to the principles of blockchain in healthcare.
Contact us to start your successful EHR implementation journey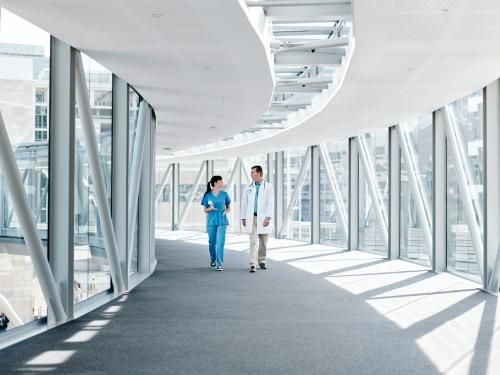 EMR/EHR software development
Our EHR software developers help healthcare organizations choose the most suitable type of system, integrations and customizations, and implement it according to the company's requirements while ensuring EHR interoperability and security.
Сhange management aspects of EHR implementation
Change is hard, and the introduction of something new into a company can be met with resistance if not handled properly. EHR implementation is more likely to be successful if three phases of productive change management are achieved:
| | | |
| --- | --- | --- |
| Phase 1:  | Prepare the ground for change | The leader of the organization has to clearly communicate why the change is needed and what the updated workflows will look like for staff, the organization, and the patients. They also need to put together a guiding group of specialists who will drive the change. At this point, the organization's assets should also be prepared for EHR implementation. |
| Phase 2: | Foster personnel's buy-in | At this stage, the staff understands what the future will look like, and what steps need to be taken. During this phase, the leader must listen carefully to the staff and take into consideration the nuances of everyday operations to correct the implementation process if needed. |
| Phase 3: | Implement the change | The change is implemented as a series of reviewed steps, with arising issues fixed. The staff is trained to handle the new tool, and the guiding group and the leader of the organization keep working closely with them to promote change, solve upcoming challenges, or tune in some workflows. |
Examples of successful EHR implementation
Almost any diagnostic or treatment software has to be connected to EHR, which is the main source of patient data. Over the years we've seen how a properly implemented EHR boosted companies' productivity and opened new horizons for them.
Sapiocare
Following the principles listed above, and working closely with clinicians' teams, we created Sapiocare – a telemedicine-ready EHR. By working closely with the client's physicians, our team discovered the need for alternative input methods: smart pen, voice, and others that let care providers focus more on the patient and less on working with the system. Through secure integrations with other medical service providers like laboratories and pharmacies, we sped up many workflows, so physicians can access test results or file prescriptions in one place. Such a suite enabled the customer to provide patient-centric care while successfully overcoming most EHR implementation risks.
An asthma monitoring suite
We took part in another great example of EHR becoming an integral part of a medical ecosystem during asthma monitoring suite development. Though our project was all about developing mobile apps and the platform for results analysis, we also integrated it with external services and a data exchange channel linked to EHR.
In each example, the successful implementation of EHR ensured access to patient data for medical personnel, patients, or even analytical software, elevating the quality of patient experience.
Expanse Patient Care
Meditech, a successful EHR provider, also achieved outstanding results by involving the primary users in the implementation process. They worked closely with the King's Daughters Medical Center nurses and management to ensure their new solution – Expanse Patient Care – really brings the desired benefits for healthcare professionals. Thanks to this collaboration, nursing staff could see the results immediately, as they saved more than 100 hours in six months, giving them the opportunity to focus more on patients.
The thing I love the most about Expanse Patient Care is that when you open the patient's chart, there is so much information right in front of you, and if you need more, you can click on it from the first page and it will take you directly to what you need.
EHR for Woodstock Family Medicine
Another EHR provider, HelloHealth helped a mid-sized primary care practice to earn a Meaningful Use attestation and enhance workflows without interruption by employing their rapid implementation technique. Their cloud-based out-of-the-box solution, which relies on the patient subscription model for revenue, was the best fit for an organization with limited resources and only ten staff members who were easily encouraged to switch to the new system.
To crown it all
Be it a full-scale development or a feature optimization, implementing EHR is as vital for a healthcare organization's proper functioning as it is complex and challenging. Luckily, there are EHR implementation strategies that providers can follow to reduce the number and severity of these challenges, make the adoption quicker and easier for the personnel, and start reaping the benefits faster. The key success strategies here are thorough preparation and close collaboration with the clinical team.
As we know, EHR adoption is not only about digitalizing paper-based patient records. In many cases, ensuring EHR efficiency requires changes in clinical workflows, which needs to be done long before the deployment, as process redesign is rather effort-intensive. However, some nuances can only be discovered during the implementation itself, so it's important to pay attention to every stage of the process and make adjustments when necessary. We'd like to emphasize the data migration procedure in particular as one that needs close attention.
User training should start when the system is already up and running. This step is time-consuming but critical: when done right, it will help clinicians not only operate their EHR system successfully but also prevent malicious hacking attacks and data leaks, and be prepared for emergency events.
It's also vital to remember that with time, all EHRs need an upgrade. To stay efficient, they need regular maintenance, new features, and system updates.