Since EHR first appeared in 2009, there has been chatter about interoperability in EHR software development. Though at first providers perceived interoperability as an innate EHR feature, bitter practical experience has shown this assumption was far-fetched. Medical providers may have demanded it from the get-go but ensuring interoperability has always been a separate, intensive effort. Unfortunately, the situation has not improved, and the COVID-19 pandemic has exposed this pressing issue once again.
In March 2020, Black Book Market Research ran a series of interoperability surveys that offered insights into providers' and consumers' experiences regarding EHRs amidst the pandemic:
As we can see, during this period when an effective EHR was more essential than ever, the tool failed to be of help to both doctors and patients. Surprisingly, the reason for such a devastating performance was insufficient interoperability.
What is EHR interoperability?
Interoperability is the ability of disparate systems to exchange a variety of data. Apart from EHR, it covers lab systems, imaging solutions, healthcare information exchange software, tools for practice management, and more. But how does it work? Here's how the Healthcare Information and Management Systems Society (HIMSS) defines it:
Interoperability describes the extent to which systems and devices can exchange data, and interpret that shared data. For two systems to be interoperable, they must be able to exchange data and subsequently present that data such that it can be understood by a user.
Thus, just being able to receive EHR data doesn't make a tool interoperable. Apart from obtaining this data, it should be able to present it to a user in an understandable way. This peculiarity hints at diverse types of interoperability, otherwise known as levels.
Types of EHR interoperability
HIMSS originally defined the types of interoperability in healthcare back in 2013. First of all, HIMSS specialists carefully articulated the Society's functions: access to health data and data integration into the system, health information exchange, and joint patient care coordination with practitioners regardless of their location. This analysis helped them define three levels of interoperability:
Functional interoperability is the basic level. It allows sending data between systems without its interpretation. For example, when a patient is discharged from the hospital, they receive a health summary in PDF format.
Structural interoperability is the intermediate level that involves a certain amount of interpretation. Structural interoperability is a system's ability to send and receive information without altering its meaning and purpose. To ensure this ability, a system should interpret information at the level of data fields, which requires both sending and receiving systems to follow accepted data standards.
E-prescription is a vivid example of this interoperability level. It ensures that a drugstore computer shows what was received from a medical provider's system without any changes, as the two systems apply the same standards to common prescription elements, such as dosage, route, the name of the medicine, and more.
Semantic interoperability is the most advanced level. It's the ability of digital health systems to not only exchange and structure data correctly but also to interpret it. This is possible due to data codification, including vocabulary. Semantic interoperability lets providers exchange patients' health data with other providers who might employ different EHR systems. It helps improve care quality, safety, and efficiency.
Unfortunately, for now, the majority of healthcare organizations across the US have only reached the structural interoperability level. Hospitals and health systems can utilize existing health data standards to achieve lower levels of interoperability and set a solid foundation for future improvements in health data exchange.
However, insufficient interoperability became a major care deterrent during the pandemic outbreak across the US.
EHR interoperability challenges
In March 2020, at the onset of the pandemic, experts from Duke University tried to evaluate EHR system readiness to manage the crisis. They came to some disturbing conclusions.
First of all, the lack of homogeneity in major EHR systems could complicate the work of clinicians:
One is the lack of a cohesive data model for patients in most electronic health records that allows clinicians to start with a patient and trace back to their signs, symptoms, and diagnostic tests.
Truth be told, EHR vendors tried to improve the situation by rolling out numerous updates for their tools. However, the majority of EHRs are very complex, with many functions intertwined, which renders trouble-free updates virtually impossible. For providers, this is a long and costly process, which may only make matters worse.
Duke University researchers detected yet another alarming feature of modern EHR systems. It was their inability to serve as population health management software amidst the crisis:
Tracking dozens of patients in an electronic health record system is feasible in many health care systems, but current capabilities are unlikely to scale to hundreds or thousands.
Here are four major barriers to interoperable health records:
1. Lack of unified patient identification
This issue concerns the lack of a patient identification standard accepted nationwide (NPID) that would assist with patient matching, lowering the rate of repeated tests and delayed care instances. Moreover, a unified patient number (UPI) could assist healthcare organizations with combating important EHR issues – overlays and duplicate entries, common culprits of patient misidentification. In its turn, patient misidentification may have graver consequences, such as erroneous prescriptions, repeated procedures and tests, and extra costs.
Though the US government has repeatedly tried to enforce UPI, their attempts have failed. The most recent one took place in July 2020. While the House of Representatives voted to overturn the ban on federal funding for the UPI development, the Senate didn't support the move. Hence, ensuring correct patient identification remains the responsibility of providers.
2. Lack of data sharing among payers
Insurance companies store loads of diverse patient data, and yet they are reluctant to share it with healthcare providers. This legacy approach is typical of the fee-for-service model, which preceded the value-based model, a present-day mainstream. Within fee-for-service payment models, one party offers services, and the other covers expenses. Hence, healthcare providers would try to upscale prices to increase their revenue, while insurance companies would try to lower the payments. 
With value-based care in place, both providers and payers need to share data for efficient operation and have the same goal – reducing the cost of care with no harm to patients. Thus, payors need access to clinical information or the meaningful insights that data provides. At the same time, providers need details about patients' demographics and social determinants that insurance agencies store. A clear view of the common goal can facilitate the mindset shift and help payors and healthcare facilities embrace mutual data sharing.
3. Lack of cross-EHR communication
Ironically, the relevant tools for ensuring cross-EHR communication, namely HL7 and FHIR standards, are there, and top EHR vendors follow them. However, this doesn't mean EHR implementation cases always follow this pattern.
The problem lies in Fast Healthcare Interoperability Resources (FHIR). This standard has promptly become a protocol for connecting different healthcare-related systems. It is a "data transport layer" which actually enables interoperability. While the majority of providers observe FHIR, it's the standard's lack of rigid guidelines that hinders seamless data sharing.
The problem is that FHIR components contain 5 to 50 assets or resources, but healthcare organizations typically choose to follow only some of those. This limited selection can undermine interoperability because the main FHIR concepts are interconnected. To establish interoperability with FHIR, providers need to make a certain set of components and resources required.
4. High integration costs
To ensure quality care, providers employ a range of health information technology systems – from EHR to hospital inventory management solutions and healthcare analytics tools. To reap the benefits these digital assistants can offer, providers need to achieve seamless integration of disparate systems, including EHRs.
However, many providers erroneously believe a health IT system integration is a hefty investment that only large healthcare networks can afford. At the same time, the majority of healthcare systems are typically integrated into the hospital's IT environment upon implementation by IT vendors. While the overall health IT system integration is a hefty investment available for large healthcare networks, adding a single solution is more or less affordable.
EHR interoperability benefits
EHR interoperability benefits both providers and their patients, leading to:
| | | |
| --- | --- | --- |
| 1 | Improved diagnostics | With the interoperability of electronic health records in place, providers gain access to a patient's health data from another provider without barriers and obtain a detailed view of their health without delay. Moreover, a clear view of the patient's medical history can help clinicians prevent adverse outcomes or misdiagnosis. According to a 2021 study by NCBI, incorrect diagnosis is the cause of death or injury of 40,000 to 80,000 patients in the USA annually. |
| 2 | Enhanced patient satisfaction | For patients, diagnostics improvements translate into reduced risks and a better experience. Besides, patients can change providers without worrying about ensuing care gaps, which is of critical importance for chronic condition patients. For them, an interoperable system can help reduce the risk of relapses and improve health outcomes. |
| 3 | Smooth cross-provider communication | The traditional provider-to-provider communication model is siloed. To obtain patient health information from another facility, providers have to use emails, faxes, or phone calls, which takes time. Interoperable EHRs allow users to fill patient data gaps swiftly and efficiently. |
| 4 | Reduced costs | The interoperability of electronic health records can help providers reduce certain care costs. Firstly, a hospital can save on repetitive tests, treatments, and procedures. Secondly, access to a medical history from another location reduces the risk of medical errors, adverse health outcomes, and subsequent malpractice claims and suits. |
How to improve EHR interoperability
A few technologies promise interoperability improvements, from cloud-based to blockchain EHRs. We'll consider how each of them may assist with enabling full-scale interoperability and overcoming system communication barriers.
Moving to the cloud
Cloud technologies have already settled comfortably in the healthcare industry, so EHR migration to the cloud is in high demand right now. For providers, a cloud EHR helps reduce overbearing costs they have to endure by offering a pay-as-you-go model.
What's more, the cloud environment allows providers to take the security burden off their shoulders, at least in part. The majority of cloud EHR vendors offer round-the-clock support and expert cybersecurity services to keep PHI protected at all times.
However, it should be noted that the advantages above apply only to public and hybrid clouds. If providers decide to design EHR in a private cloud, they have to be aware of the hefty cost and the need for a professional in-house IT team to manage the solution.
Unfortunately, cloud environments are not completely free from interoperability issues either:
Right now, interoperability is being done on an ad-hoc basis. What we need are some government regulations around cloud. The technology is there for interoperability, we just need to decide on some standards.
Without the standards, cloud environments can't "communicate" efficiently. Besides, the lack of standards may hamper data sharing between different cloud tools.
Adopting a blockchain EHR
EHRs can be a good starting point for implementing blockchain in healthcare. This decentralized ledger technology may help provide enhanced EHR security and accessibility to both medical professionals and patients.
This is how an EHR designed with blockchain tech works:
Blockchain can also make a positive impact on semantic interoperability. With blockchain, there's no need to implement costly integrations across different EHR systems. The only thing required to get access to a patient's records is a private key. This may enable access to health records for any medical professional and from any location, providing they have valid credentials.
This seems to be a "dream come true" situation, so why hasn't the industry switched to this EHR design model altogether?
With a blockchain EHR in place, patients become full-scale masters of their data, which may foster patient engagement. It's them who grant access to their health information to providers, not vice versa, as it's always been. In this context, consumers are left to fight off cybercriminals and malicious actors on their own. As a result, they may fall victim to some advanced fraud schemes like social engineering.
Besides, with patients becoming protagonists of their healthcare journey, providers will need to learn many new skills, from blockchain operation to marketing and advertising. After all, they'll have to find ways to persuade consumers to become their clients and share their personal health data with them. A bit off the beaten track, isn't it?
Looking to improve your EHR systems?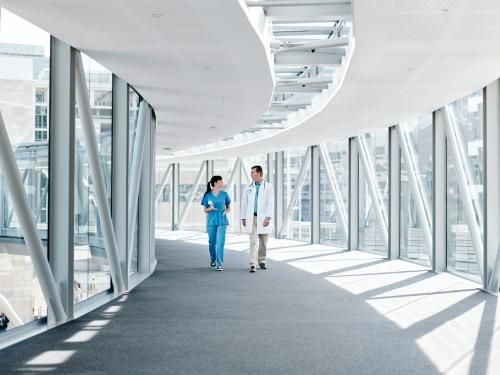 EMR/EHR software development
We deliver reliable, secure and well-integrated EHR systems equipped with the necessary patient management, analytics and reporting and care digitalization features.
How to measure EHR interoperability?
Measuring interoperability is a complex effort that may require extra time and effort from providers. Well aware of the accompanying challenges, in 2016, the Office of the National Coordinator for Health Information Technology (ONC) addressed providers asking for comments regarding interoperability measurement.
ONC specialists developed a sort of rapid interoperability assessment framework that only looks at two critical data sets:
Share of providers which electronically perform the four basic operations related to interoperability: sending, receiving, finding (querying), and integrating information from external sources.
Share of providers who use the information they get from other providers and clinical decision-making sources for reporting.
This data allows researchers and healthcare officials to evaluate structural and semantic interoperability rapidly.
For providers, this simple framework may work for self-assessment. They just need to reformulate the measurements into questions: e.g., "Do we send, receive, query, and integrate information from external sources?"
To measure interoperability comprehensively, HIMSS Interoperability cooperated with the HIE Committee and worked out eight measuring factors. They allow the evaluation of all three levels of interoperability within a healthcare system:
Basic transactions. This factor describes the ability of two systems to exchange data and the ability of the receiver to use the information without difficulties. It is measured in terms of volume and transaction type (send—receive, query—use, and find—integrate).
Partners/stakeholders within a network. Here data exchange is considered at individual and population levels (provider to provider vs. provider to registries).
Standards applied. This factor includes message types and standards that enable the receiver to recognize and process data.
Profile-dependent transactions under diverse implementation guidelines, Integrating the Healthcare Enterprise (IHE), and more.
User specifics, e.g. size, location, specialty, etc. to understand the settings that host interoperable transaction
Transaction time frame, e.g. real-time or delayed.
Transaction volume for all technology types involved and network-reported trend data. Having examined how the seven aforementioned factors fit their healthcare system, providers may rate their interoperability scope and efficiency and identify the gaps.
Future plans for scaling up transactions.
At this point, providers may develop some strategies for bridging those gaps and advancing towards semantic interoperability with more healthcare systems if needed.
On a final note
Healthcare interoperability is a complex matter for the modern healthcare industry, intended to allow seamless sharing of patient data and improvement of patient care coordination and clinical decision-making.
While functional and structural interoperability is already there, semantic interoperability has yet to be achieved. Still, there is a powerful facilitator in play: it is the honest cooperation of stakeholders involved in the improvement effort. From clinicians to insurance companies and EHR vendors, without this multifaceted cooperation, semantic interoperability can hardly be achieved.