Running an ecommerce business today is more challenging than ever. Competition is getting tougher while consumers are growing more demanding and will not miss the chance to switch to a competitor if your service quality is poor.
One of the criteria for success in retail is multiple well-functioning customer interaction channels. According to the Getting to Know Your Customers survey by Forrester, 62% of customers want to interact with brands across various online channels. Therefore, only retailers ready to deliver such an experience can stand out from the competition, grow, and profit.
In this sense, ecommerce digital transformation, which implies the adoption of innovative tech, is one of the best ways to gain a competitive edge. That is why more enterprises are willing to turn to ecommerce development to leverage such technology as voice commerce, enabling customers to purchase products via voice.
This article covers the concept of voice commerce, describes its use cases, benefits and challenges, and provides some tips for its implementation.
What is voice commerce?
Voice commerce is a technology that allows users to make purchases and transactions online using only their voice. Today, voice commerce is at the forefront of technological advancement in the ecommerce industry, having revolutionized the way people navigate the internet and interact with brands.
For example, having a smartphone or a tablet with a voice command interface (VCI) or devices like Amazon Alexa and Apple HomePod, a person can enter a voice command to access a product catalog, check the rating of a particular item, make an order, and even pay for a purchase. Voice commerce proves to be a win-win for both brands and consumers since it dramatically simplifies and accelerates the traditional shopping process.
How does voice commerce work?
From the outside, consumers using voice commerce pronounce commands into Amazon Alexa, Echo, or another devices. Then the software generates results and returns it to the users. However, if we look deeper, we can see that voice commerce is more complex, as it consists of several stages all hidden behind the curtain.
First, the consumer says a voice command, for example, "Alexa, I want to buy a vacuum cleaner with a targeted spray nozzle. What offers are there on the market?"
The system then converts the voice to text and extracts its meaning.
After interpreting the voice command, the voice commerce system decides what to do next.
After determining which answer would be most relevant to the user, the system turns it into text and then converts it into audio.
As a result, the user receives a voice response, which may sound something like: "There is one product that may suit you. Should I make an order?"
Of course, in real life, recommendations may vary depending on the user's request and the specifics of the voice commerce system.
What are the components of voice commerce?
We can distinguish three main components of a typical voice commerce system.
Voice commerce always involves an appropriate device – a smart speaker with an in-built voice assistant or a mobile phone empowered with a virtual digital assistant (VDA), such as Siri, Google Assistant, or Alexa.
Voice commerce software is located on the user's device (typically, it is a mobile app or a solution installed on a smart speaker) that serves as an intermediary between the device and the retail platform.
After receiving a voice command from the app, the cloud platform interprets it, submits the relevant result, and then returns an answer back to the app, having previously converted the response into the human speech format.
Now that we have discussed what voice commerce is and its main components, we should look at how the technology is used in practice.
Voice commerce use cases
Voice commerce technology has enough potential to transform the entire shopping process by allowing consumers to complete all its steps via voice commands. Let us discuss each of the technology applications in more detail.
Application 1. Product discovery
A growing number of consumers want to search for products online, avoiding the hassle of manual typing, so voice-powered product search is becoming increasingly popular. According to Statista, in 2021, browsing for new products was the most popular voice-command purchase activity in the US, with 44% of surveyed consumers performing this action at least once.
So how can brands make their products searchable via voice? The approach primarily depends on their business needs and the choice of voice commerce platform provider.
For example, if a company uses a Google Merchant Center account, it can entrust developers to create APIs and sync existing product catalogs with Google Shopping. Then APIs can submit data from the catalog (for example, information about prices, item features, or product availability) and transmit it to the Google Merchant Center. Then Google Shopping users will be able to discover these products using voice search.
This is just one example of how you can make your products searchable by voice, however, there are even more technological applications. For instance, you can follow the approach to voice marketing taken by Nike.
A couple of years ago, the company launched a basketball game broadcast aimed at promoting a collection of shoes with a voice-activated self-lacing feature. During the broadcast, consumers who liked the shoes could type "Ask Nike" into Google Assistant. Then, the voice commerce system transferred users to the page where they could pick up a pair of shoes. Thanks to this campaign, Nike was able to sell the entire collection within just six minutes.
Application 2. Self-ordering
Once a consumer discovers your product, they may want to make an order, and fortunately, voice commerce technology provides brands with this functionality. Instead of going through a multi-step shopping process and navigating multiple tabs and website pages, your customers can order the product they want with just one voice command. If a consumer has already made purchases in a store, he or she may even skip the product discovery stage and simply say something like, "Alexa, reorder the same brown chair that I bought a week ago."
Walmart's Voice Order is a solution that allows customers to order groceries by voice on the go for home delivery or schedule to pick up products in the store. Over time, Walmart has modernized the solution by enabling integration with Siri AI, thereby making shopping easier for iOS users.
Other companies have implemented even more exciting voice commerce solutions. For example, Honda Innovations has a voice-powered assistant Honda Dream Drive that allows Honda drivers to reserve parking spaces, order food, buy movie tickets, and use a navigator while driving, all using only voice commands.
Application 3. Self-checkout
Voice technology is changing not only how people shop but also how they pay, as voice-based payments are becoming more widespread each year. Research and Markets expects that the global voice payments market will reach $14.66 billion by 2030, with a CAGR of 10.9% between 2022 and 2030.
Today, an Amazon Echo smart speaker can use the information about a user's preferred payment methods, such as a credit card number, to make online payments after receiving a voice query. In turn, the Google, Apple and Facebook platforms support integration with PayPal, allowing customers to use this payment system via voice while walking or driving home.
Application 4. Delivery tracking
Typically, when customers order something on the internet, they receive a link for delivery tracking. If a customer wants to check the shipping status or specify the delivery time, they should open the site, paste the link, and get the info. As you might have guessed, voice commerce technology can make this process more simple and convenient.
For example, a customer might say a phrase like, "Alexa, when will the laptop I ordered yesterday arrive?" and the system will provide the exact delivery time. Depending on the functionality of the voice commerce system, customers can also edit the delivery time or clarify the delivery terms.
Application 5. Post-purchasing service
Besides the applications above, voice commerce also helps brands provide omnichannel customer support and ensure that customers get a seamless, stellar experience. For example, clients of Oasis Clothing, a women's fashion clothing brand, can use the Oasis app to send a voiced complaint regarding a purchased item. Then, the system connects the client with the company's support department, or, if a person wants an exchange, delivery to a store or directly to the customer's house can be arranged.
What are the advantages of voice commerce?
Now that we have discussed some examples of how eCommerce businesses can apply voice commerce, let us look at the benefits it may bring.
Improved customer experience
Since voice commerce enables consumers to make purchases and get information much more easily, implementing this technology can positively affect the customer experience.
Moreover, accompanied by the appropriate AI-driven engine, a robust voice commerce system can adapt to a specific customer by choosing the correct language and tone when responding. Thus, by implementing voice commerce, brands not only get one more channel of customer interaction but also provide clients with personalized experiences, thereby increasing their loyalty.
Enhanced digital presence
Voice commerce can be a great assistant in terms of growing your business and increasing your sales because it improves your products' discoverability. With voice search, you can reach new audiences eager to use smart devices and make your services accessible to people with disabilities, enabling them to make purchases via voice.
According to the Smart Speaker Consumer Adoption Report 2022, the total installed base of smart speakers in the United States has grown from 47.3 million units in 2018 to over 90 million in 2021 and is expected to expand to around 95 million units in 2022. Some of these smart speaker owners can potentially become your customers, and if we take into account the users with mobile VCIs, your potential customer base can be even more expansive.
A deeper understanding of customer needs and wants
Serving as an additional sales channel, voice commerce can also prove an inexhaustible source of customer data. For example, you can better understand what customers require by analyzing what products people buy via voice and how frequently they do it. Later, you can use this information to fine-tune and personalize your marketing campaigns, replenish your stock, create more relevant offers and recommendations, or leverage ecommerce-specific predictive analytics tools.
What are the challenges of voice commerce?
Despite all the advantages of voice commerce technology, it is still not perfect. Here are some issues that enterprises may face when implementing it.
Lack of trust
Unfortunately, not all customers are yet ready to buy goods via voice. Some people can be wary of their voice messages, purchase history, and other data being recorded and transferred to third parties, while others worry that their children can purchase something while they are unattended. Since these fears are not so easily dispelled, retailers need to consider them when tapping into voice commerce development.
A limited number of integrations
Even though progress does not stand still, not all service providers are ready to work with voice commerce technology, which in some cases may limit the growth of your ecommerce business. Although some forward-looking platforms like PayPal already have the functionality for making voice-driven transactions, you should remember that many payment systems and banks do not yet support voice commerce.
Speech recognition errors
A feature-poor voice commerce system may also have several technological limitations. Most commonly, it may incorrectly interpret natural language and misunderstand user requests, especially when a customer speaks with an accent, has diction issues, or uses slang and professional jargon.
How to start with voice commerce?
The success of a voice commerce development project largely depends on your understanding of your ecommerce business, its technological capabilities, as well as the behavior and preferences of your customers. Therefore, it would be better to start with a detailed business analysis, which will help you define whether voice commerce is viable for your business case, what your project goals are, and whether your in-house team has the relevant skills to implement the technology.
As an option, you can start by asking your IT staff, marketing managers, and sales reps these questions:
What does our existing customer journey look like? Will voice commerce help us streamline it?
Should we implement voice commerce only for smartphones? Can targeting smart speaker users be more relevant?
Which hardware provider should we choose and why?
Can we develop voice commerce software from scratch? Which voice commerce platform should it be compatible with?
How should we integrate the voice commerce system into our existing ecommerce architecture?
How can we optimize our products for voice commerce?
The answers to these and other questions will help you decide whether you should initiate a software development project and where it would be better to start. In case you are unsure about your project idea, do not hesitate to consult with voice commerce technology experts.
Let our experts equip your brand with voice commerce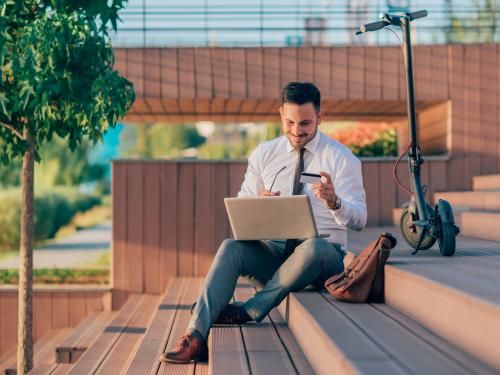 Itransition helps enterprises build and implement best-of-breed ecommerce technology to enable outstanding customer service and omnichannel shopping experiences.
What cutting-edge tech can enhance voice commerce?
As you already know, voice commerce may have some functional limitations. Fortunately, like any other technology, it evolves, and today, there are innovative tools that can improve the efficiency of voice commerce solutions.
ML-driven speech recognition
Thanks to the emergence of machine learning application in retail, enterprises can integrate this technology in voice commerce to dramatically improve the quality of speech recognition. For example, you can load vast amounts of data into your voice commerce solution (such as audio files containing human speech) and the system will learn and with time be able to better identify the words speakers say. This way, developers can teach your voice assistant to understand accents or speech defects, thereby improving the quality of customer experience.
Voice biometrics
With this technology, the voice commerce system can identify the user's identity by looking at the unique features of his or her voice. Thus, you can increase the security of your voice assistants and provide customers with a feeling of safety.
AI-powered product recommendations
With built-in artificial intelligence (AI), the voice commerce system can analyze user preferences and provide more relevant recommendations. Such improvements in the quality of submitted answers may result in greater customer satisfaction.
Connecting brands and customers via voice commerce
Today, customers want to have multiple channels to interact with ecommerce brands, and retailers that can meet this demand get higher chances to succeed and remain competitive.
This is where voice commerce may come in handy. With this technology, customers can search products, order them, and make payments using voice commands. Complemented with innovative tech like ML, AI, and voice biometrics, voice commerce can help you provide an even smoother purchasing experience and thus gain a competitive edge.