Traditional on-premises software installed on individual computers provides full control over all the elements and functions of the tool but limits accessibility and collaboration. These limitations prevent businesses from staying agile in the rapidly evolving world. Under these circumstances, companies try to move away from their legacy solutions and migrate to the cloud, where they can get access to software, storage, and processing power hosted by an external vendor and made available to any authorized user with the internet connection. 
Cloud services, in their turn, cover a broad online territory, so prior to implementing a CRM strategy based on the cloud technology, it's important to understand the differences between various types of hosted services.
The anatomy of hosted services
To date, almost everything cloud-related can be purchased as a service, from separate components, like functions or containers, to entire infrastructures. It's crucial to understand what your company needs a cloud service for, what control level you expect, and what resources you're ready to invest in when making your choice.
Infrastructure-as-a-Service
As opposed to on-site hardware, Infrastructure-as-a-Service, or IaaS, is pay-as-you-go computing resources, like storage or servers, that are highly scalable and can be purchased as needed to match the company's consumption level and other requirements. Users configure virtual machines and deploy apps to them. This model allows maximum control over the resources: apps, data, middleware, OS, runtime, etc.
Platform-as-a-Service
Platform-as-a-Service, or PaaS, provides developers with a cloud-based framework for building, testing, and deploying custom apps while a vendor takes care of the infrastructure management. Available resources can be upgraded or downgraded per business needs. PaaS users have complete control only over their apps and data. 
Software-as-a-Service
Software-as-a-Service, or SaaS, provides ready-to-use customizable apps that don't need to be downloaded and installed but are available over the internet. It's the most popular cloud option for businesses of all sizes and single users alike, as all it requires is a web browser, the internet connection, and being registered in the service. SaaS apps are managed and maintained by their vendors so users are not responsible for hardware and software updates, and the only thing they can control is data within the app.
How hosted software came to rescue in 2020
In spite of the growing popularity of cloud solutions, many companies were quite slow to embrace cloud-related benefits. Even if they utilized some cloud apps, they didn't have a centralized location for their data, people, and resources. However, the events of 2020 pushed even the most reluctant cloud dissidents to SaaS as an ideal solution for a new decentralized, work-from-home reality—the one that doesn't require hardware, installations, and complex initial configurations while providing access from any device and from any place in the world.
In this article, we will illustrate the advantages of SaaS-based hosted CRM systems, for two reasons:
According to CRM consultants from Itransition, SaaS CRM implementation has been one of the most popular requests since the initial pandemic outbreak. (Find one of our case studies below.)
According to the research on the Global SaaS CRM Market 2021-2025 by Technavio, it is forecasted to grow by $44.17 billion during 2021-2025.
Are you searching for a trusted CRM partner?
Itransition's CRM consultants are here to help
Contact us
Why a hosted CRM for the new normal?
A hosted CRM stands for a cloud-based platform that helps any business manage its interactions and relationships with customers across multiple channels with an ultimate goal of improving customer experience and growing. 
Let's see why it's a go-to tool for unpredictable and rapidly changing conditions businesses have to endure today.
Pre-purchase test-drive
Most SaaS CRMs offer a free trial that allows users to access the full functionality of the platform. Though it's usually too short a period to fully understand the system's benefits and possible challenges, it's enough to check its viability for a particular business in terms of user-friendliness, functional scope and employees' buy-in. 
High availability
A hosted CRM doesn't require any additional efforts from your employees or partners as they don't need to install and configure the software but are welcome to work right after logging in. Such platforms are easy to use as they come with prebuilt workflows, training videos, and best practices from other users. What's more, a hosted CRM doesn't need a large IT team to maintain and fix it round-the-clock—most issues are taken care of on the vendor's side. 
What's more, most cloud CRMs come with a mobile version or a mobile app, which ensures a barrier-free access for any employee, whether they are on a business trip or working remotely. 
Work from anywhere and collaboration
A hosted CRM has always been a blessing for field workers who don't have to decipher their scribbles from meetings or remember to enter data once they are in the office. Instead, they can access a CRM from any device to cross-check the necessary information, input data, create tasks, or make notes—everything can be done on the go. 
This ability became a game-changer when the world had no other choice but to learn working from home and collaborating in distributed teams. In other words, a cloud CRM can be turned into an office space where any team member can share data, access the latest records anytime, and communicate with colleagues, while providing customers with consistent experiences.
Regular upgrades
Hosted CRMs usually get regular forced updates from the vendor's side. On the one hand, it's seen as a disadvantage as it means lack of control and additional training efforts needed. On the other hand, such upgrades mean lower costs and efforts and require no downtime compared to the situation when you need to upgrade your privately hosted platform on your own. What's more, popular CRM vendors are in a continuous race for the status of the most innovative companies, so each upgrade means access to cutting-edge technologies.
A high integration and scalability potential
The multi-tenant architecture of cloud CRMs offers a high degree of flexibility and agility that allows companies to scale both up and down depending on the current needs. Adding or dropping users or features takes just a few clicks, not a full-scale update. In fact, enterprise CRMs don't have any physical limits to the amount of data or number of records—users can ramp up their operations to any extent. 
What's more, such a platform can be integrated with third-party databases and apps, either through the vendor's app marketplace or pre-built connectors. It allows creating an ecosystem where employees can use convenient tools while allowing bidirectional data exchange and synchronization for seamless operations and rich analytics. At the same time, it's possible to connect various customer data channels and accumulate data in a centralized location to have a single source of truth accessible to all teams. 
Data loss prevention
Some organizations can't bring themselves to migrate to a hosted CRM from a legacy platform as they don't like to lose full control. However, while it's possible to control all the processes within a legacy CRM, there are still things that can go out of hand and result in downtime or lost data, for instance, when hardware gets damaged or in case of emergencies. When it comes to hosted solutions, they don't require any hardware that can be damaged and offer fast and comprehensive data recovery. 
Compliance and security
Security of cloud solutions is usually mentioned as a disadvantage as data is stored in a public cloud—if you can access it remotely, little can stop cyber criminals from doing it as well. For this very reason, to keep multiple users' trust, cloud providers make an extra effort to ensure best-in-class security measures. They involve strict access levels, server authentication, server firewalls, data encryption, MFA, unauthorized intrusion detection, and more.
Additionally, a hosted CRM makes it easier to meet regulatory compliance requirements and customers' concerns regarding their privacy. According to KPMG's 2020 Global Customer Experience Excellence report, 98% of customers are concerned about their personal data and what happens to it. Luckily, some platforms have compliance already baked in, like the GDPR-ready SAP suite with tools to address various GDPR requirements and protect data privacy by means of:
Progressive profiling
Automated capturing of consents and preferences
Role-based access to data
Activity capture in change logs
Self-service privacy preferences and erasure management 
Are you searching for a trusted CRM partner?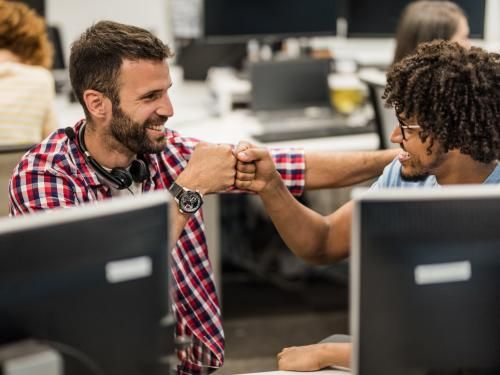 Itransition's CRM consultants are here to help you with CRM strategy, migration, customization, third-party integrations onboarding and maintenance.
Hosted CRM implementation: a case study
Itransition partnered with one of the largest commercial property management companies in the UK that wanted a new CRM platform based on Salesforce. Since we had a successful track record of Salesforce implementation, the customer trusted us with this project.
What was the starting point?
The company had over £1 billion in assets that constituted more than 100 properties spanning 2.1 million square feet and a team of 800 people. To manage everything, the customer used a couple of legacy systems that were unpopular with users due to their highly disintegrated state, a large amount of manual effort, and low data quality. The customer intended to gravitate towards customer-centricity but had to fight with poor data, low productivity, and software issues instead. 
What was the solution?
We offered a data migration strategy and implemented, configured, and customized Salesforce CRM by coupling out-of-the-box functionality with custom business logic we created in the process. We also integrated a number of third-party services, like DocuSign, SpringCM, and FinancialForce. We also applied Power BI to let the customer predict trends based on customer behavior. The solution covered the company's entire sales cycle, automating workflows (lead and contract management, quote generation, etc.) and providing tools for communicating with tenants.
What were the results?
After a few months of using the solution, the customer measured the following critical improvements:
The sales cycle decreased from 20 to 18 weeks 
Board papers generation reduced by 60%
The conversion rates went 15% up
Costs associated with unoccupied real estate (in terms of heating, cleaning, etc.) were reduced 
Our solution decreased the amount of manual tasks, which minimized the risk of human error and allowed employees to spend time on more meaningful duties. Using the advantage of the cloud hosting model, we helped the customer to scale as needed and handle any amount of data painlessly.
A bottom line
Certainly, hosted software has some disadvantages that prevent businesses from going all-cloud. The issues like limited control, vendor lock-in, and privacy of extremely sensitive data, particularly in finances and healthcare, raise concerns and require a CRM strategy to mitigate them. However, cloud-based solutions have become a silver bullet for the new business reality where technological enablement should be paired with speed—otherwise, there's a risk to come last in this agility marathon. 
A hosted CRM presents an opportunity to create a hub for distributed teams where each team member can securely access necessary information based on unified data. Meanwhile, its adopters can rapidly scale up or down depending on the situation, have access to the latest innovations enabled by the vendor via updates, and have no worry about possible compliance issues.