Today, businesses can connect a firehose of data to their workflows and pursue data analytics strategies using a stack of advanced business intelligence and tools for operational business intelligence. 
With teams becoming distributed on both local and global levels and the world learning to operate in remote and agile modes, the demand for cloud solutions has increased considerably. According to Statista's report on cloud business intelligence importance worldwide, in 2020 only 7% of the respondents claimed that cloud BI wasn't important for their company. At the same time, cloud BI was considered important in the following areas:
In this article, we will look at cloud BI as an obvious choice for the short and long term alike, consider available deployment types, and outline the approach to custom and platform-based BI solutions.
Why cloud BI?
Compared to legacy on-premises BI solutions, cloud BI offers a long list of attractive advantages. Together with business intelligence consultants from Itransition, we selected the most game-changing ones.
Faster implementation and adoption
Previously, BI platform deployment required hardware, a dedicated team of developers and data scientists, and considerable funds. In many cases, the software was too complicated to master for less tech-savvy staff. 
A cloud BI infrastructure is much simpler to deploy and requires less technical knowledge from users, as service providers usually cover hosting, maintenance, and updates. When it comes to cloud BI apps, they are usually ready-to-use right away with minimal adoption barriers for end users. Plus, it's possible to take such tools for a test-drive: free trials or free editions are quite common.
Better accessibility and collaboration
Cloud solutions can store a massive amount of data and allow anyone with the access to use them via any device (even without installation) from anywhere in the world. What's more, it's possible to collaborate with colleagues in real time by having just one thing—the internet connection. Cloud software creates an environment where teams can explore data side by side, share insights, streamline reporting, and engage in collective decision-making to reach common ground for critical or ambiguous issues. 
Data democratization
Cloud BI software makes data available for all users, giving them tools to interact with it in different ways and adopt such emerging concepts as data storytelling or mobile BI. With only a basic understanding of their data, users can integrate necessary data sources via pre-built connectors, visualize data by means of drag-and-drop tools, and drill into it through advanced filters. AI technologies help users spot trends and outliers in their data as well as getting accurate forecasts. What's more, the software takes care of data cleansing and transformation thus guaranteeing quality and accuracy.
Elastic scalability
Cloud BI services can be upgraded to match the company's growth and accommodate more users or projects. It's possible to increase storage capacity and add extra features. BI tools maintained by service providers will also be continuously updated to provide top-notch technical capabilities at all times. The best thing is that once companies no longer need some storage or features, they can scale back and pay only for the resources they actually use.
Cloud BI deployment types
Depending on your business intelligence project plan, there are a few ways to deploy your BI solution or infrastructure, and we are going to look at each in detail.
A public cloud
This model is based on multi-tenancy—anyone can use the service and store data on external servers while paying only for the storage amount used. Cloud service vendors manage its availability, maintenance, and updates. For this reason, this option is the most attractive for SMBs with limited funds or for companies that need to store large amounts of data. 
The major impediments to using public clouds are lack of control (it's hard to find out where your data is kept and who has access to it) and security concerns (multi-tenancy can compromise data privacy).
A private cloud 
This model is similar to a public cloud in terms of technical characteristics and resembles an on-premises solution in terms of autonomy and security. The company becomes the sole owner of the cloud, operating its cloud servers located in a dedicated data center. Though servers can be delivered by an external party, the company is responsible for maintenance and infrastructure customization. Consequently, this model requires considerable investments. 
A community cloud 
This type follows the private cloud scheme. However, instead of one owner, several companies share the infrastructure and, hence, the costs. It's a viable solution for companies from the same field that have similar approaches to performance and security and are ready to collaborate when it comes to implementation and project management.
This model is not commonly used yet due to privacy concerns—all owners can access data. Plus, they have to share the storage and bandwidth.
A hybrid cloud 
This model combines the possibilities and characteristics of those mentioned above, allowing companies to rely on multiple cloud services in order to balance costs and increase autonomy and security. 
For instance, it's possible to keep sensitive data and critical assets in a private cloud, collaborate in a community cloud, and work with big data in a public cloud. In this case, all clouds would form a single ecosystem and have to be compatible so that they could synchronize and communicate with each other. This model is only applicable if it makes sense to split data and operations.
Many companies view a hybrid model as their preferable option and build foundations for working across multiple cloud infrastructures. They connect tools, technologies, and data sources to get an end-to-end solution, optimize costs, and avoid vendor lock-in issues.
A custom cloud BI architecture
Amazon was a pioneering cloud service company when it rolled out its Amazon Web Services (AWS) in 2006 with a basic online storage offer. Today, they offer cloud solutions for any purpose one can think of. What's more, with cloud development costs going down, the BI services market has been growing like on steroids. It has resulted in companies having hundreds of options to consider when choosing services for building their cloud BI solutions.
However, to make the right choice architecture-wise, it's important to avoid chasing technological trends but take care of what's important for your company. For example, it can be security, integration capacity, multi-tenancy, or low-latency data processing. Audit your business workflows and identify data you need to power them, people who need access to that data, and so on. It makes sense to proceed with the development of aBI architecture once you have answers to these questions. If you experience any difficulties with choosing the right technologies, you can make use of roadmaps provided by cloud providers or cooperate with cloud consultants.
A typical architecture of an enterprise BI platform can have the following components:
Data warehouses
A data warehouse is at the heart of a data pipeline, serving as a central data hub. Data warehouses are built to accumulate data from connected sources, , be it in-house cloud or legacy systems, external apps, sensor data, and more. Once necessary sources are integrated, you should make sure data is regularly ingested and loaded into OLAP servers. 
ETL (extract, transform, load) processes coordinate such operations as extracting data from connected sources, storing it in data lakes, cleaning and transforming it into different formats, and loading it into the target destination. This pipeline can also be automated through data warehouse modernization.
Data models
A data model is responsible for the data structure and access levels. It's possible to single out the following models:
Enterprise models are usually designed by IT architects. They store prepped data and serve as a central hub for reporting and analysis. These models are built once to become a company's standard in terms of quality and consistency. They also ensure restricted access to sensitive data.
Semantic models are designed by BI analysts and developers and serve as a semantic layer over enterprise models. These models are usually responsible for specific queries and take data from enterprise models or external sources. Such models can speed up querying and let users interact with data. 
ML models are designed by data scientists from the raw data stored in data lakes. Data scientists train these models to interpret data and provide forecasts.
Reporting
At this stage, data is pulled from data warehouses or data stores for regular or ad-hoc reports, providing users with visualized metrics and insights. Specific reports can be scheduled, or else users can update data in real time to make decisions on the spot. Reports can also draw on historical data in order to compare fluctuations over time or within certain time intervals
Enjoy hassle-free cloud BI deployment with Itransition's help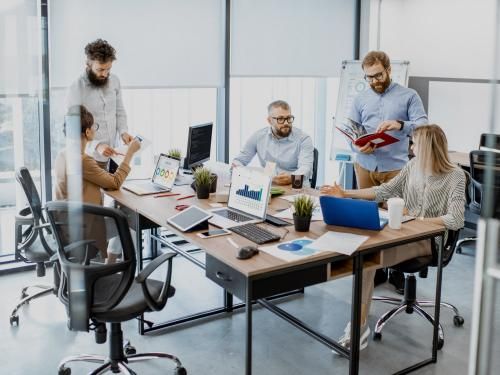 Our team helps companies gain invaluable business insights by developing and implementing BI and data visualization solutions.
How to choose a cloud BI tool
Few companies are ready to commit to building a cloud BI solution from scratch; others rely on all kinds of tools to take care of their data. A BI tool enables data accumulation, transformation and modeling coupled with a ready-made interface for interacting with analytical dashboards. Consequently, data analysis becomes accessible not only to data scientists but to any professional, which nurtures the culture of data sharing and collaboration. 
Though it's easier to adopt just one tool to have everything under one hood and reduce the training burden, don't be afraid of pursuing a multi-cloud approach when you need the highest possible performance for certain tasks. When building up your cloud BI stack, consider prioritizing the following features.
Ease of integration
Businesses usually rely on multiple data sources, so your business intelligence software should be able to accumulate data from all of them, be it your legacy system, third-party apps, CRMs, ERPs, and such. When you select a tool, pay attention to:
The number of pre-built connectors for cloud data integration the vendor currently offers and the availability of those you need.
Data point limits. If there are any and you hit them, you will have to either pay for extending the limits or change the tool altogether.
Available data storage and the rates for extra resources.
Visualization options
Data visualization is one of the most powerful business tools today. However, a visualization should be not only appealing but also meaningful. Search for a tool that offers capabilities to mix and match big data visualization types, like charts, graphs, maps, forecasting models, and more, and customize them by dragging-and-dropping rather than coding.
Self-service capabilities
As almost anyone can interpret data with the help of self-service BI solutions, data democratization and collaboration become corporate standards. If you want to nurture the same culture in your organization, look for the tools with:
A highly intuitive interface
Robust integration capabilities
Drag-and-drop tools
Dynamic data modeling
Advanced functionality for tech-savvy professionals
A learning portal for mastering new skills independently
Ad-hoc reporting
This feature enables professionals with no technical background to create highly specific reports when needed and share them on the fly, which fosters data-powered decision-making. It allows employees to use real-time data to get necessary insights in record time and at a low cost. For instance, Tableau and Power BI enable users to drill down into data by asking natural-language questions and receive replies as visualizations.
Cloud BI becomes an obvious choice
No business can escape the need to harness their data, and the most efficient way to do that is by using cloud BI solutions. They foster a data-driven organizational culture by making data accessible to users of any technical skills. At the same time, they provide almost unlimited possibilities for those professionals who fancy building custom BI systems.