In the disrupted but recovering business landscape of 2021, companies across industries are actively turning to digital transformation to become more future-proof, resilient, productive and customer-centric. 
Automation has always been strongly associated with digital transformation and is the most universal and sought-after method of revolutionizing enterprise operations. The holistic business process automation, implemented through dedicated platforms or custom software, remains the most popular approach, despite the emergence of more intelligent and task-oriented technologies like conversational AI and RPA (we investigated their relation in our article on BPM vs RPA). According to the 2020 McKinsey's survey, 57% of respondents have business-process and/or case-management platforms deployed beyond the piloting phase:
In this article, we explore the variety of advantages that business process automation brings to its adopters and how they prove a stepping stone to digital transformation
6 business process automation benefits
Better efficiency
The 2020 State of Process Automation Report by Camunda found that 51% of business decision-makers are motivated by efficiency when they proceed with process automation, and rightfully so. BPA, designed to take over complex, lengthy and labor-intensive processes and complete them faster, is bound to create significant efficiency gains.
Owing to the technology, enterprises can find suitable ready-made tools to address the gamut of operational pain points, from core processes to low-level tasks to 'firefighting' activities. For instance, human resources management, replete with paperwork and numerous manual repetitive tasks, is perhaps a common BPA application area across industries. Implementing dedicated platforms for candidate sourcing, onboarding and offboarding, scheduling and time management, companies increase HR specialists' productivity in 80% of cases, as per Entelo's Recruiting Trends report.      
With a portion of business process management consulting, companies can unlock similar efficiencies when tailoring BPA software to less conventional industry-specific processes.
One of our clients, a medical device manufacturing company, tasked Itransition with creating medical equipment software that would streamline data management for blood centers. Our development team built a custom solution that provided visibility into various peripheral devices and automatically gathered blood data from them, verified swaths of information and integrated them into the blood bank information system. With this system now employed at over a hundred blood centers around the world, the company notes a 30% increase in the facilities' productivity.
Financial gains
In most cases, BPA-induced efficiency improvements entail a cutback in operational expenditures. Indeed, manual, outdated or flawed workflows usually take longer to execute or more employees to manage, or require regular costly maintenance, or all of the above. In total, the costs of ineffective processes can grow into a hefty sum wasted year after year.    
Automation, in contrast, allows enterprises to achieve more with fewer resources. This way, Itransition's customer, a Canadian car repair shop with over forty years in the industry, wanted to modernize and automate core tasks performed manually. To meet the company's requirements, we delivered a customized Odoo-based BPM solution that not only reduced manual efforts by nearly 80% but as a consequence allowed them to cut operational expenses by half.  
Reducing operational costs is not the only way companies can capitalize on BPA implementation. In 2020, automation became an essential competitive advantage for SMBs, found Zapier in their 2021 State of Business Automation report. According to the findings, 88% of companies could compete with larger enterprises and make a good profit thanks to BPA implementation. 
Other than that, the same survey states that automation improves employees' lives in nine cases out of ten, assisting them in their day-to-day work. Less stressed and overwhelmed and with more energy to learn new skills and fulfill more creative, intellectual tasks, employees can make a greater impact on the company's growth and profitability.   
Stronger customer relationships
Modern automation technologies have grown sophisticated and common enough to no longer alienate customers, but to bring them in with the promise of speed and efficiency of service as well as personal touch. While business intelligence and operational business intelligence deal with customer data and customer service automation is the realm of chatbots, BPA enables companies to put various labor-intensive marketing activities on autopilot, strengthen customer relationships, and streamline lead generation.
The range of potential BPA scenarios is wide, spanning email and social media marketing, lead tracking, customer onboarding, satisfaction measurement, and content management, to name but a few. Integrated with enterprise CRM that provides real-time customer data, marketing automation tools perform their dedicated tasks quickly and efficiently and support ongoing, personalized communication with the client base. Automation also enables 86% of employees to spend more time with customers, found Appian's research, establishing and nurturing closer connections:
Today, however, more and more CRMs come equipped with marketing automation tools, allowing companies to keep their marketing toolkits lean, forego the integration step, and minimize interdepartmental data silos. According to the HubSpot Research Global Sales Enablement Survey, 61% of outperforming market leaders rely on CRM to automate demanding areas of sales and lead engagement workflows. Odoo is the prime solution in this respect, providing a CRM that integrates seamlessly with native marketing automation and social, email, event and SMS marketing modules.
Standardization and compliance 
Except for some customer operations and creative processes, most enterprise workflows would benefit from some degree of standardization. By aligning operations with internal norms and instructions, it's possible to make them clear and predictable.  
Standardization is an indispensable part of BPA. Before automation, a process is defined, mapped out, and laid down as a set of rules and instructions and then assigned to the software instead of an employee to carry out. Unlike workers that can neglect guidelines accidentally or on purpose, the software has a minimal failure rate, ensuring the processes will always be carried out without deviation from the script.  
Other than that, there are compliance requirements to meet in all industries. An imperative for security and service quality today, compliance is growing harder to ensure, consuming over 40% of companies' IT security budgets, states Coalfire's Compliance in the Era of Digital Transformation report. 
One of the business process automation benefits is providing a cost-effective and reliable way of bringing critical workflows in compliance with general and industry regulations as well as customer requirements. When setting up an automated workflow, the IT team can introduce regulations-based rules, so each time the process runs, it invariably stays in line with those rules.   
Even if not running the process itself, a BPA tool can keep a close watch on operations or documents and automatically prevent their non-adherence to regulations. Thus, assisting the ERP provider Acumatica in Acumatica Construction edition development, we equipped it with an automated compliance workflow that notifies the responsible employee in case a certain document is about to expire. 
Reduced human errors
In the workplace, mistakes are inevitable. There might be slips and lapses even a well-skilled person makes out of inattention and negligence, or purposeful missteps, committed due to poor judgment or in spite. While in some domains employee errors turn out more devastating than in others, in the modern data-driven world, mistakes made when handling operational information can come at a dear price regardless of the company's industry.   
Business process automation can significantly mitigate the risk of human errors. The software will carry out both simple repetitive tasks and multi-step workflows over and again, in the way it is set up to do, without unauthorized variations from the script. This way, business process automation benefits include the accuracy of results along with process consistency, traceability, and adherence to best practices.   
This accuracy, however, is not a given. To operate without fault and flaws, an automation tool or custom software needs to be properly fitted with the rest of the enterprise's IT infrastructure and proactively monitored down the line lest it malfunctions. Still, in the rare case an error does occur in an automated process, its source can be traced within the software and put right. 
Easy upscaling
On the path to consistent and sustainable growth, companies face multiple challenges associated with scaling up their operations. One of the major ones is expanding the workforce with adequately trained personnel amid the global talent shortage and then managing the labor costs. Then, there is also the need to cater to the growing and/or more diverse customer needs as efficiently as before or even better and ensure back-end operations will be up and running under the increased load.
These provisions can take a lot of time that is precious in the fast-paced business landscape of today. However, making a company's infrastructure highly scalable is yet another of the many business process automation benefits.  
Once a business process is automated, making it handle a greater workload will take only additional configurations and more data storage. Performed by an experienced team, these changes will not require costly staff increase and workflow revamp, and while they do incur costs, the total sum will never amount to the expenses of hiring and training new employees.   
The case when the company wants to enhance the automation solution's functionality is trickier but still feasible. When BPA is platform-based, there is a high chance the vendor offers a range of process-focused modules that the company can implement to cater for the emerged need. Automated workflow customization is the most drastic and costly measure, but when done right, the tailor-made script will prove highly scalable and therefore long-lasting.
Need help automating your business processes?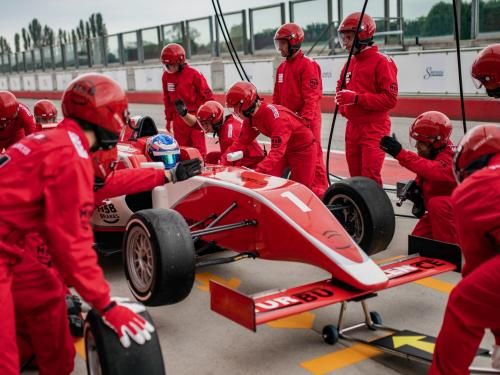 We develop custom or platform-based business process management solutions leveraging leading solutions like Odoo, Pega, and Acumatica.
When business process automation is a good idea?
Modern BPA technologies, while advanced and versatile, are not omnipotent. The company can take full advantage of business process automation benefits only when all is set up appropriately. Here are the major signs indicating that you need BPA and not another automation technology.
You want to automate broad but straightforward processes
As a rule, BPA platforms follow a holistic approach to automation and come with a wide range of basic or mid-level features. This is what makes BPA most effective for manual and repetitive but multi-step business transactions spanning multiple enterprise systems, like employee onboarding, inventory and procurement, document and content management.     
You aim to support, not substitute your employees
Business process automation systems are not designed to operate fully autonomously. Instead, they complement employees and alleviate their duties, helping them to be more productive. In the meantime, BPA software can't fully simulate human actions and judgments and therefore can't take on the full scope of any team's or department's tasks.   
Beyond that, a BPA system is not a self-regulating mechanism and calls upon regular maintenance actions, software updates and automation script modification, along with occasional all-round testing to detect emerging faults and bugs.
You are ready to overhaul established processes
BPA is a rather invasive form of automation. For one thing, addressing processes end-to-end, BPA tools call for BI, CRM and ERP integration. Additionally, it's necessary to revise existing outdated or inefficient workflows so that business process automation solutions could function as intended. And while the change is positive and may be even welcomed, it still requires a level of readiness from both the C-suite and employees, not to mention the availability of necessary resources.
The bottom line
Compared to the latest digital workplace technologies, BPA may not appear the most exciting thing. Nevertheless, it proves a powerful market differentiator and an imperative for business growth and development in 2021 and further on.
Tapping into business process automation benefits, companies also significantly advance their digital transformation readiness and establish a solid foundation for more innovative improvements. 
Still, BPA implementation requires a certain level of organizational readiness and resource commitment, so make sure you venture into it well-prepared.