According to Gartner's 2020 report on enterprise low-code application platforms, by 2023 more than 50% of medium to large enterprises will adopt low-code development as their strategic business instrument. 
But what is low-code development and why has it caught on?
Low-code development is an approach to creating apps and processes by utilizing simple logic models and drag-and-drop tools instead of heavy coding.
As a rule, companies with limited IT resources view the low-code approach as the basic layer of their CRM strategy. Now this approach is also getting popular in agile IT environments due to its abilities to accelerate the development cycle, facilitate innovation, and reduce project backlogs.
Low-code customization is a game-changer for professional and citizen developers alike. While citizen developers and other users can create features and customize their tools without additional assistance, professionals can blend low-code customization with custom code and build complex apps much faster.
Why is low-code taking off in a huge way?
Low-code development was already gaining traction before 2020. It helped anyone to turn into a citizen developer or analyst, collaborate with IT departments to speed up the development of critical functionality, and even create new features completely on their own. However, in 2020, companies suddenly pivoted from the traditional development setup and started embracing low-code customization more than before. 
Due to the pandemic, people found themselves working from home and needing a number of apps and services deployed literally overnight. Low-code customization has become the answer to this urgent request—visual modeling instruments, ready-made modules, and drag-and-drop tools have enabled business users with no coding skills to create or modify features within CRM, ERP and data analytics platforms, and roll them out immediately. 
Let's take an example of a CRM platform with a low-code customization toolset and look at its use cases, evaluate its potential for speeding up digitization, consider its challenges, and see how it makes a difference for customer relationship management based on Salesforce, a leading low-code CRM customization platform.
Use cases of low-code CRM customization
Low-code customization is usually applied to front-end processes and CRM apps/features that require a low level of integration. Here are the most popular examples of low-code CRM customization:
Internal workflow automation: to streamline time-consuming processes and facilitate cooperation between different departments.
Onboarding automation: to help new employees feel comfortable from the very start by streamlining onboarding stages with chatbots, surveys, checklists, and more.
Cross-device capabilities: to let users work from any device and location.
Data management: to connect data sources, process data, and sync updates.
Tracking features: to track leads, market activity, CRM maintenance errors, KPIs, etc.
Customer engagement instruments: to provide CRM-based self-service features and portals and facilitate customers' experience with convenient sign-up forms, page navigation, checkout, etc.
Test-drive of new ideas: to use real prototypes or test products similar to those of competitors' during brainstorming.
Low-code CRM customization benefits
Low-code customization has gained traction due to the outstanding possibilities it creates for any business
Faster development cycles. Low-code allows reducing the scope of professional developers' tasks to a minimum. Following this approach, it's possible to skip some development stages, like selecting back-end and front-end frameworks, performing some testing types, patching, and such. 
Additionally, low-code tools usually have built-in governance processes to ensure that each developer follows the same methodology. At the same time, CRM users can roll back changes and revert to previous versions if something doesn't work as expected. 
Better resource management. Users don't have to send a request to the IT department each time they need development help. Instead, they can customize their CRM processes as they like, while developers can save time and focus on the tasks requiring a higher technological expertise. 
Reusable components. CRMs can have a few out-of-the-box modules that can be used to develop a great variety of features. At the same time, previously built CRM apps or modules can be reused to build new features much faster. So, in many cases it's not necessary to develop new features from scratch.
A rich library of connectors. To enable low-code customization, CRMs offer a long list of prebuilt APIs for connecting data from external sources. If necessary, it's possible to configure available connectors to match particular feature requirements.
AI-powered capabilities. Many CRMs come with AI built in. It enables users to develop almost no-code AI-powered features and apps for such tasks as automated data entry, product recommendations, content personalization, data analytics, insights into customer sentiment, and more. 
Rapid digitization and innovation. Faster development cycles allow for running more experiments and touching new grounds. As customer preferences change, it's possible to customize and upgrade CRM apps with advanced technologies like IoT, NLP, or AI, to meet new expectations.
Room for pros. Some CRMs have embedded IDEs and code editors to let developers build apps outside the low-code scope but keep the ability to contribute this code to common projects.
Low-code customization challenges
Shortcuts and compromises of low-code customization may result in certain limitations, increase technical debt, decrease code quality, and encourage shadow IT. For this reason, prior to giving the green light to citizen developers, it's worth taking care of proper supervision and introducing a consistent development methodology and governance practices. 
Here are the major problems you may face when engaging in low-code CRM customization.
Vendor lock-in
Low-code CRM platforms can work as black boxes and prevent users from seeing the underlying code, so it becomes impossible to edit it or migrate to another platform when the need arises. 
How to fix it: Choose a CRM that allows switching between graphic and coding views as well as editing the underlying code. In case of code migration, it's usually possible to generate code in one of the programming languages and recompile apps after that. 
Code and design quality
Common users who create CRM workflows and features on their own risk contributing poor-quality code and inefficient processes to the common project. There's also a risk of creating features with cluttered and unattractive interfaces.
How to fix it: In most cases, business users don't write any code at all—they just can't affect the code quality within a CRM platform geared for low-code customization. However, to boost development quality, those users who apply customizations should operate within the collaborative environment of high visibility, where mentors and supervisors provide consultations and review contributions. In this case, it's possible to avoid the negative consequences of shadow IT, like code bloating or design issues, at the initial development stages.
Integration limitations
Few CRM features can exist in complete isolation. Most apps and processes need to communicate with each other and external systems. As a rule, low-code CRM platforms offer pre-built APIs for multiple external systems and sources. However, the more sources are integrated, the more complicated API management gets. If you build mission-critical workflows, you need to be sure your CRM will provide for smooth API management in the long term.
How to fix it: Generally, try to avoid building enterprise apps and mission-critical processes demanding multiple integrations using low-code platforms. 
Scalability
Scaling within a low-code CRM platform can entail switching to another edition, additional costs for overriding limitations, heavy coding to meet growth needs, or even moving to another platform altogether. 
How to fix it: Prior to choosing a low-code CRM platform, it's recommended to superimpose your growth plans on the platform capabilities and estimate the costs and efforts it will require in the future.
Security issues
As most citizen developers don't take any development classes, they have little knowledge about common security concepts. It can pose certain risks as low-code customization can touch upon sensitive data, while multiple integrations can bring additional security gaps.
Professional developers who work with low-code CRMs should also be aware—if they write code outside of the platform, they can reintroduce security weaknesses. 
How to fix it: Though low-code in itself mitigates security risks and provides in-built compliance and security management, common users shouldn't be allowed to go with the flow but first learn possible security challenges of low-code customization.
Trying to set up a low-code CRM system?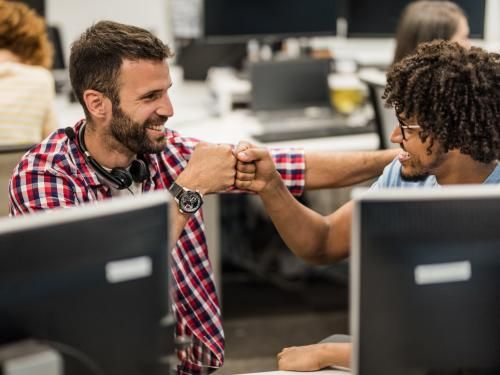 A certified partner of SAP and Salesforce CRM platforms, Itransition can help with end-to-end CRM implementation, migration, customization, or on-going support.
Salesforce's low-code customization approach
Salesforce is a CRM pioneer that occupies a leading position in many categories, low-code customization included. Experienced consultants can confirm that Salesforce customization is a not-that-complicated option for meaningful improvement. In Gartner's 2020 Magic Quadrant for Enterprise Low-Code Application Platforms, Salesforce traditionally occupies the top tier:
Ever since Salesforce first launched its low-code tools based on the Lightning Platform in 2018, it has pushed the boundaries for low-code customization platforms by turning them into fully integrated development environments. Its low-code tools are now able to accelerate development and customization at any stage, be it designing, testing, deployment, or management. What's more, it's possible to integrate internal and external data sources and augment apps and processes with technologies such as AI (via Salesforce Einstein) and IoT along with strong security and governance controls.
Within the unified development framework, different teams, from sales to IT, have access to role-shaped resources. They can collaborate through the platform and collectively build apps, develop additional functionality, and innovate. The major tools for Salesforce customization are, among others:
Lightning Flow and Flow Builder for creating and maintaining flows and processes.
Lightning App Builder for creating interfaces by drag-and-drop.
Flow App for streamlining workflows, automating business processes and manual data entries.
Mulesoft Composer for providing non-technical staff with the possibility to integrate, unify, and access data across different Salesforce systems.
Data Mask for anonymizing or deleting personal and sensitive data.
Multi-factor Authentication for adding an extra security layer to the login process to protect customer data from unauthorized access and cyberattacks.
Einstein Next Best Action for building AI-powered assistants for different use cases.
Automation Components for speeding design and development with additional building blocks.
Trailhead Go for setting up training modules and programs and providing learning on the go.
Whipped by the pandemic-related challenges, Salesforce released a number of new low-code features for even faster app building, such as Dynamic Forms and Dynamic Actions. With these features, it's possible to create event-driven, responsive apps and tailor experiences to different user roles so that a particular user could see the right information at the right time. For instance, field sales reps who use the mobile version of their CRM don't need all of the platform components on the limited real estate of the screen. Instead, they need to quickly access the essentials. 
Dynamic Forms and Dynamic Actions can be integrated with other Salesforce services, like Lightning Flow, Einstein AI, Mobile, and more.
Is low-code the future?
We will always need professional developers but viewing them as sole providers of software development is an outdated way of thinking. CRM platforms combined with low-code tools speed up app development, optimize costs, and boost agility. That's why they are viewed as strategic instruments by SMBs and enterprises alike, helping any company do more with their existing resources.