Companies can no longer afford to rely on outdated, rigid and ill-fitted business processes. For this reason, dedicated business process management and automation tools have been gaining traction across industries. Relying on business process management consulting, companies adopt the instruments that help them define, create, and modify their operations, keeping them effective and up-to-date. 
A company looking for a BPM solution will easily understand from the very beginning that the market is dominated by two platforms—Appian and Pega. The platforms are renowned leaders in the business process management and automation software industry and have been ranked high on the Gartner Magic Quadrant for Intelligent Business Process Management Suites (before 2018 the category was called Business Process Management Suites) for the last seven years in a row, interchangeably assuming leadership. 
Despite running neck to neck, Appian and Pega are not the same. Below, we will look into the platforms from different angles, explore their strong points and weaknesses, and see how each solution stands out.
Appian and Pega at a glance
Launched in 2004, Appian grew into a leading BPM software. The platform encompasses such process management and automation technologies as RPA, AI, intelligent document processing (IDP), and case management. Along with that, Appian offers a robust stack of low-code development tools to enable rapid building, designing, and scaling up of enterprise and customer apps for any device.
Born in 1983 out of the founder's idea of a type of software that would do the heavy lifting for business users, Pega has come to be a robust and sought-after BMP platform with a focus on large enterprises. Its core capabilities include end-to-end event-driven process automation with case management, RPA, and AI, in addition to low-code multi-experience app design and development.
Appian vs Pega
 
Appian
Pega
BPA & case management

Visual BPM tool with an AI recommendation engine
Decision Designer tool
Dynamic case management toolkit

Visual BPM tool with the proprietary
Build for Change technology
Case Lifecycle Management tool

Intelligent automation

RPA
Robotic Workforce Manager
Pre-trained IDP models
AI app development tool

RPA
Proprietary RPA bots and AI-powered apps
Pega Process AI for intelligent automation development

Deployment & pricing

Managed and unmanaged cloud
On-premise

Pricing

A free version
3 paid editions
Price per user and on request
14-day free trial

No free versions
2 paid editions
Price per user and on request
30-day limited free trial

Low-code app development

A visual designer tool
No-code connectors for databases and software
Automated unit and UI tests
AR/VR, IoT and virtual assistant integration modules

Pega's visual App Studio LCAD tool
Built-in DevOps capabilities

Security provisions

Multiple security layers
24/7 threat monitoring
Compliance with leading security frameworks
Frequent third-party security audit

Robust security controls
24/7 threat monitoring
Compliance with various security
standards

User resources & training

A resource center
Online and in-person training programs
Frequent community events

A knowledge base
Pega Community Video Library
A virtual Pega community
Pega Academy training center
Business process automation and case management
Using Appian's rich BPM toolset, both professional and citizen developers can easily design business processes. Working in a visual process modeler enhanced with an AI recommendation engine, one can put together process flow charts and implement them into the existing business apps. To enable apps' business logic development, Appian provides the Decision Designer tool running on the open Decision Model and Notation (DMN) standard and equipped with automatic guidance and quality control. 
For enterprises seeking to facilitate unstructured, ad-hoc processes, Appian offers capabilities for dynamic case management. The solution supports workers dealing with incidents by automatically handling straightforward tasks and converging relevant data from multiple sources to facilitate human decision-making.   
Pega's BPM suite is based on the proprietary Build for Change technology that allows adopters to fully sidestep hand-coding during business. Leveraging the platform's visual tool, business users can build tailored apps with a consistent and intuitive UI, and modify or scale them easily as the needs and requirements change.
The Case Lifecycle Management tool, in the meantime, will help orchestrate the workflow for unpredictable processes, automate simple tasks with bots, and streamline decision-making with rules and AI.
Summing up 
Appian's BPM and case management toolkit is comparably more basic and beginner-friendly than Pega's one powered by proprietary technology and AI. To properly leverage Pega, citizen developers need to endure a steep learning curve, but afterward they will be able to build much smarter, more sophisticated and easily scalable business apps than they could with Appian. 
Intelligent automation 
Apart from the holistic BPA development tools, Appian enables narrow-focus robotic process automation. Relying on the visual low-code development tool, business users can build cloud-native bots to perform repetitive high-volume tasks. Since Appian's out-of-the-box RPA elements are Java-based, citizen developers can use them as a base to create custom bots. Appian also has the community-driven AppMarket where companies can download ready-made bots tailored to RPA use cases. 
Business users can monitor and govern their bots through the dedicated Robotic Workforce Manager and align them with other enterprise solutions into fully automated workflows using no-code connectors.  
Beyond that, Appian offers pre-trained AI models focused on smart document processing along with various out-of-the-box AI elements to create intelligent and scalable business apps. The platform allows users to orchestrate processes across RPA and AI solutions to achieve hyperautomation.   
Pega's RPA capabilities encompass building attended and unattended bots and an innovative auto-balancing feature that redistributes bots to high-priority tasks. Customers also gain access to such proprietary RPA technologies as NLP-powered Email Bot, X-Ray Vision enabling bots self-healing, and Workforce Intelligence that assigns RPA bots to the most demanding tasks.
The vendor also offers a range of ready-made AI-powered automation solutions, the most notable examples including an intelligent virtual assistant to handle customer conversations, and Customer Decision Hub that predicts customer needs and personalizes customer interactions.
For companies that want tailored intelligent automation there is Pega Process AI, a low-code development tool for automating customer-centered and data-heavy processes with technologies such as NLP, speech-to-text, event processing, and data visualization. 
Summing up
Both platforms allow users to fully explore the benefits of robotic process automation, with each having its strong sides, such as Appian's bot orchestration capabilities and Pega's attended and unattended RPA features. Still, Pega offers more robust opportunities for AI-enabled automation through ready-made tools and custom low-code development. 
Setup and pricing
Appian is a PaaS platform with a cloud-native architecture, with the company relying on AWS, Azure, and Google as public cloud hosting partners. Appian can also be deployed on-premise, but then some security provisions will not extend to this implementation.  
Appian offers four platform versions. First, there is the limited Free one and the fully-featured Standard one with fixed prices per month for different user types and weekday support. Then, there are custom-quoted Flat App and Enterprise editions, the former aimed for departmental use, the latter suited for enterprise-wide deployments. Both come with guaranteed 24/7 vendor support. 
Appian's pricing
Plans:
Free Limited
Standard Fully Featured
Flat App Fully Featured
Enterprise Fully Featured
Price:
Free

Standard: $60 USD
Infrequent: $18 USD
External Input: $2 USD
per user/month

Custom Quote
priced per app.

Custom Quote
priced per user with unlimited apps.

Users:
N/A
Mininum 100, no
maximum
Unlimited
Mininum 100, no
maximum
Data source: appian.com—Low-code Automation Platform Pricing
Companies can test-drive the Appian platform with its full functionality for 14 days only.
Last but not least, Appian has free Android and iOS mobile apps, providing users with on-the-go access to notifications, tasks, events, content, and collaboration. 
Owing to the standardized open architecture, the Pega platform offers outstanding flexibility in deployment. It can be installed on-premise on various operating systems and run with any popular app servers and databases. Companies can also deploy Pega in the cloud, choosing to host it in customer-managed or partner-managed environments, on Pegasystems' managed cloud platform Pega Cloud, or as a PaaS on the Pivotal Cloud Foundry.
Unlike Appian, Pega has no free version of the platform. Instead, the vendor offers a 30-day trial environment on Pega Cloud, but with access to one tool, the low-code development App Studio. Beyond that, there is the Enterprise Starter edition, best suited for departmental initiatives, with per-user pricing and some functional limitations. The fully functional Enterprise Transformation edition can support adopting companies in full and is priced on demand.
Note that some services from the Starter and Transformation packages may include additional fees. Overall, this pricing policy earned Pega its reputation as an overpriced solution. 
For customer support, Pega offers multiple self-help resources and troubleshooting videos as well as a contact form for submitting support cases, regional phone support, and the on-demand AI-powered Predictive Diagnostic Cloud that assesses the platform's health and alerts owners of critical issues.  
Summing up
Considering the availability of a free version and tiered per-user pricing, Appian is a more budget-friendly option and can be easier to start with. On the other hand, the more expensive Pega has a wider range of deployment options and ongoing support, which makes it a better fit for medium and large enterprises that are not new to BPM.   
Low-code application development
Appian has been recognized as a leader on the Gartner Magic Quadrants for low-code development and intelligent BPM software for several consecutive years, and rightfully so. 
Working in Appian's visual designer tool, business users can collaborate with IT specialists to build business apps of any complexity, with a modern UX/UI. The platform is also rich with pre-built data integration templates and no-code data connectors for databases and leading enterprise systems like SAP, Salesforce, AWS, and others. 
Beyond that, Appian provides automated unit and UI tests and a means to gain insight into the app's user experience, infrastructure, and configurations so that customers could keep their software healthy and properly functioning.    
As a multi-experience low-code application development (LCAD) platform, Appian allows crafting engaging business solutions for mobile and desktop and seamlessly shifting across devices during development. To help companies take their software up a notch, the platform offers pre-built modules for creating AR/VR experiences, integrating Appian-based apps with IoT devices and wearables, or connecting them with Amazon Alexa or Google Assistant. 
Pega's intuitive App Studio also encompasses a wide range of ready-made modules for building fully featured, multi-experience and mobile-friendly business apps. Other than that, the tool enables rapid user interface design, data management, and integration with the rest of enterprise software. 
The in-built DevOps capabilities allow developers to automate software testing and update deployment, while another tool, Pega's App Factory, provides a means for easily scaling low-code software. 
Summing up
Appian is hailed for its low-code development capabilities for a reason. The platform's set of basic pre-built modules and connectors is comparably wider than Pega's, while its advanced capabilities allow for making enterprise solutions relevant and future-proof. Other than that, while Appian offers the full scope of LCAD features by default, even in its free platform version, Pega's low-code capabilities are spread across multiple tools, the adoption of which can unnecessarily expand the development infrastructure and incur extra costs.   
Security
Following the defense in depth concept, Appian equipped their cloud platform with multiple security layers, such as network intrusion detection and file integrity monitoring systems, firewalls, and others. Aligned with the leading security frameworks, Appian Cloud also includes a range of security controls and features, from basic access controls and authentication capabilities to strong data encryption and storage protocol.
The company ensures that Appian Cloud is monitored for threats 24/7 and all of detected or reported security incidents are investigated by the dedicated Security Incident Response Team. What is more, the platform's security controls are regularly assessed by third-party auditors that perform various tests and scans.  
Pega, in its turn, baked in an equal amount of security controls into their cloud platform. The solution's all-round protection is provided by an authorization and access framework, client-based access control rules, data encryption across all environments, and secure system integration tools.
Monitoring the platform 24/7, the company ensures uninterrupted service and prompt incident response. Beyond that, Pega is compliant with general, regional and industry-specific standards and regulations including FDA, GDPR, HIPAA, and CCPA. 
Summing up
It's clear that both BPM vendors spare no effort to keep their cloud platforms secure, reliable, and compliant with applicable security standards. The only important difference between Appian's and Pega's security provisions is that the former involves independent experts in their platform's security audit, while the latter does not.  
User resources and training
On Appian's website, business users can freely access a resource center—a hub of multi-type educational content, spanning reports, e-books, guides, and webinars, on all things concerning business process automation and management with the platform.  
The company also provides personalized online and in-person training programs for the roles of analyst, developer, administrator, and architect and has a certification program aimed to validate the trainee's know-how and skills of working with Appian. 
Last but not least, Appian holds frequent community events, both large-scale like the yearly Appian World and regional or industry-specific summits and webinars.  
Pega also has a broad and freely available knowledge base covering documentation on all platform features and industry-specific tools as well as deployment and support guides, update and patch release notes, and resolved issue notices. Apart from the documentation, there is also the regularly updated Pega Community Video Library containing product demos, troubleshooting how-tos, and conversations with Pega experts. 
What sets Pega apart is an active virtual community called Collaboration Center, driven by users who ask and answer questions and share their hands-on knowledge. The company also holds frequent virtual events and webinars on various general and industry-specific topics. 
Pega Academy encompasses a growing range of so-called "missions," each dedicated to separate skillsets, like low-code development, process design, customer engagement optimization, and so on. One can also participate in free or paid live classes with Pega's instructors. Trainees can prove their Pega knowledge by getting Business Architect, System Architect, Data Scientist or Decisioning Consultant certificates. 
Earning certifications is also the way for Pega service providers to prove their maturity and expertise in the platform. In 2020, Itransition got Pega certifications and now has certified Business Architects and System Architects on board. 
Summing up
It's clear that Pega offers more robust, well-structured, and user-friendly educational resources than Appian, as well as a more granular and engaging training system. What is more, the availability of Pega's Collaboration Center simplifies troubleshooting for business users and facilitates networking and the establishment of a more tight-knit community.
We will support you on your business process automation journey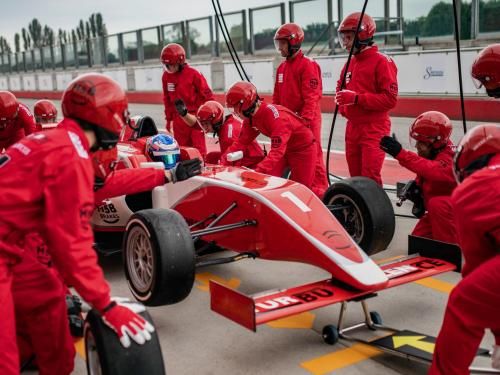 Itransition is well-equipped to streamline your business processes with industry-leading platform solutions or custom-make tools.
Final thoughts
Our Appian vs Pega comparison shows that both possess outstanding capabilities and characteristics and lead the BPM software market for a reason. In the meantime, there are some significant differences between them.
Appian provides ample BPA, case management and RPA capabilities that can cover all basic automation needs of an enterprise. Pega's offer in this area is richer, as the platform has smarter BPA development features, a more advanced range of intelligent automation technologies as well as several ready-made AI-powered business apps.
However, Appian's low-code app development toolkit, with its AR/VR, IoT, and virtual assistant connectors, compares favorably to Pega's. 
On the one hand, Appian with its free platform edition and lower fees appears to be more beginner- and SMB-friendly. But on the other, Pega provides a larger number of more engaging user resources and training materials, which makes it very approachable for BPA newcomers.  
As you can see, both Appian and Pega are a good choice for a company seeking to tap into business process automation benefits, but to understand which fits your corporate needs and requirements best, you can take either platform for a free trial or turn to Itransition's consultants to determine the one fitting the bill for you.