Not so long ago, virtual reality was on the sidelines of retail tech. Partly considered too gimmicky to strike a chord with the average consumer, partly due to the bulky and expensive equipment, customer-oriented and back-office VR implementations in retail were sporadic, albeit mostly successful. But the events of 2020 turned the tide for both the industry and the technology.     
First and foremost, consumers have grown considerably more VR-savvy. Due to the last year's lockdown restrictions, people around the globe were forced to seek out new forms of at-home entertainment, and the choice of many fell on virtual reality, which accelerated headset sales and VR use. Also, with the leading tech companies promptly responding to the demand, the market now offers a wide range of high-resolution, six-degrees-of-freedom and therefore more user-friendly VR hardware.
Beyond that, over the past year consumers have adopted a more adventurous buying behavior and are more open-minded to novel and exciting shopping methods as long as they remain hygienic and safe. To top it off, the rollout of high-speed and low-latency 5G is picking up steam, ensuring the availability of uninterrupted, high-quality immersive experiences across the board.
Together, these factors create an enabling environment for venturing into virtual reality development specific to retail, as well as upgrading existing VR applications. 
Let's look at four VR use cases that can bring about a meaningful change in customers' journeys as well as business workflows.
The most potent applications of VR in retail
Ikea's Virtual-reality showrooms
VR showrooms, or 360-degree immersive environments aimed at showcasing goods or services, is not a new technology, but until recently retailers viewed it only as a sophisticated marketing solution and a crowd-pleaser at events. Virtual showrooms were offered by car dealerships or luxury fashion brands as a novel way to explore their products, but customers nevertheless preferred to make their purchase decisions based on a first-hand experience. During the pandemic, however, the retail industry rediscovered VR showrooms as viable substitutes for in-person shopping, which catalyzed its wider adoption.         
Virtual showrooms have particularly caught on with apparel brands that now heavily rely on it to host virtual trade shows, wholesale appointments, and media events. BrandLab, one of the leading VR showroom platforms, saw a 2,000% rise in demand for their platform between May and June of 2020 for holding virtual fashion events; other vendors have experienced a similar rise in demand. With high-resolution 3D images and video, overlaid product descriptions, zoom-in, fabric close-ups, and multiple experience customization options, VR showrooms are fully equipped to deliver life-like experiences at a fraction of a live fashion show's cost.
For furniture retailers, VR showrooms have also become a go-to business technology. Taking a leaf from IKEA's book, which has been offering their Virtual Home Experience interior lab for about five years, multiple companies around the globe promptly launched VR showrooms for customers to explore products from different angles and in every possible configuration. 
To step up user experience, furniture retailers supplement their showrooms with audio guides, selfie modes, AI-powered search engines for shopping from photos, and direct staff consultations options.   
Appreciating the freedom, ease of customization and cost-saving and environmental benefits of VR technology, many brands plan on keeping their virtual reality showrooms as online sales channels even in the post-pandemic future.
Balenciaga's VR-powered promotions
Owing to its proven ability to elicit strong emotional response from the viewer, virtual reality holds a special place in retail marketers' toolbox. Past years saw a gamut of diverse VR-based promotion campaigns, both digital and offline: from IKEA's Steam-enabled VR pancake kitchen where users could cook under professional guidance, to Lowe's Holoroom How To, an in-store DIY skills-training clinic where visitors could learn the ropes of home improvement.
Enabling detailed hands-on demonstrations of products and services, these and similar marketing projects persistently brought about a satisfying sales bump and helped build brand awareness. But today, despite their value, most in-store implementations have been curtailed due to health safety considerations. While retailers are highly likely to return to their old ways when the pandemic subdues, most have pivoted to digital customer experiences only, driving the emergence of novel immersive advertising paths.
Brands go for immersive gamification as a way to tap into consumers' need for excitement while also facilitating their engagement with the promoted product. For example, to support their autumn/winter 2021 collection, the luxury fashion brand Balenciaga released a VR video game called Afterworld: The Age of Tomorrow, now freely available on their official website. Creating an avatar and dressing in Balenciaga's latest garments, players navigate a futuristic landscape and complete several simple quests.
Another up-and-coming promotion avenue is immersive in-game ads. With VR gaming dramatically rising in popularity, games have become a lucrative advertising space. Partnering with VR game publishers that match their brand concepts, companies can embed unobtrusive promotional materials, from classic banners and videos to volumetric holograms, into the gameplay to drive engagement.
Kellogg's virtual-reality merchandising
Both at online and brick-and-mortar stores, product merchandising is a crucial marketing activity that needs to draw on customer data to prove effective. However, while digital retail specialists have access to a wealth of insights based on carefully tracked customer behavior, physical shop merchandisers usually struggle to gather credible intelligence even during focus group tests due to the subtlety of the data.     
Adopted for marketing research purposes, virtual reality can fill this data gap, eliminating guesswork. With headsets tracking users' eye movements, in-store merchandisers can accurately track consumer perception and intent and, using this data, determine optimal product placement in-store. Also, thanks to the flexibility of virtual reality design, marketers can effortlessly alter test case variables and try out different scenarios.  
For example, when in 2019 Kellogg planned to launch their new Pop-Tarts Bites product, they partnered with Accenture and Qualcomm for a VR solution to help them figure out how to place it on the shelves. Together, the tech companies created a life-like virtual supermarket, complete with aisles, shelves, and products, where focus group participants could "shop" wearing VR headsets integrated with an advanced eye-tracking analytics solution. 
According to the data gleaned from this virtual research, the optimal placement for Kelloggs' Pop-Tarts Bites was a little lower than traditional surveys indicated, and acting upon these insights, the company saw an 18% sales bump during the testing period.
In addition to consumer research, VR can come in handy for creating planograms, or layouts of product placement on the shelves. Working in a 3D environment, merchandisers can easily move products and signage around the shelves and even aisles and build optimal shelf layouts much faster, without having to hassle themselves with real-world inventory and shelves.
Walmart's virtual-reality employee training
Thorough employee education is fundamental to business growth and customer satisfaction, but many companies still struggle to do it right, getting caught up in the many nuances to take into account. 
For one thing, with product ranges constantly expanding, product education should be ongoing but not exhausting. Employees also need many hours of in-person scenario-based training to hone in on their soft skills and develop new ones, sometimes urgently—think the early days of the pandemic. To top it off, with employees working in shifts and across distant locations, traditional classroom education is hard to arrange without inconveniencing the majority, while online classes are inaccessible to deskless employees.     
Virtual reality, increasingly gaining traction as a corporate education tool across industries, harbors the potential to help retailers overcome these obstacles and improve training outcomes. In 2020, PwC conducted a study on the effectiveness of VR training compared to the traditional classroom and online methods. The results revealed that those employees who train in a safe and realistic immersive simulation need less time to absorb the learning material and stay much more focused during the process. Moreover, the learners were times more confident in discussing and acting upon what they studied and felt much more emotionally connected to the subject. 
Numerous long-term VR-enabled training programs across big-brand retail companies support these findings. One of the trailblazers, Walmart, has been leveraging virtual reality since 2017, continuously ramping up the number of training centers and learning modules for day-to-day and out-of-the-ordinary activities, like Black Friday or holiday rush. 
With over a million of their retail associates and managers having already passed immersive training, Walmart reports improved knowledge and skill retention and higher staff satisfaction as well as a considerable reduction of training time, which eliminates the need for employees to stay late or study on their days off. 
Other than that, the switch to VR training promises substantial financial savings down the line because, once developed, the modules scale up effortlessly and need minimal upkeep and instructors' intervention. Last but not least, VR is the best option for arranging remote training, both for employees in distant locations or teleworkers, as it requires no other equipment than a headset and controllers.  
Looking for a reliable VR development partner?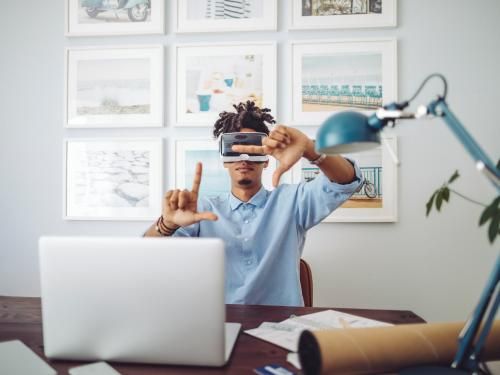 Augmented and virtual reality development
Itransition offers AR/VR/MR consulting, design, and integration with hardware, helping companies provide seamless immersive experiences to their customers and staff.
Virtual reality in retail: barriers to entry
Notwithstanding its potential for customer engagement and workflow streamlining, VR is not yet commonplace in retail for a reason. True, the technology has been the preserve of gaming and entertainment industries for most of its existence and haven't yet trickled down to the farthest corners of retail. At the same time, VR adoption is also riddled with persistent challenges that discourage many companies from considering it a viable path of digital transformation in retail.   
Price is perhaps the major prohibitive factor. An average VR project entails meticulous 3D modeling, experience design, and software development, along with usability and performance testing. All these add up to project costs that can be, however, optimized when you partner with a single end-to-end VR development provider like Itransition. 
Also, if the VR application is for multiple concurrent users (for example, those who visit a virtual store), a company needs to purchase a sufficient number of hardware sets, which can also cost a pretty penny, even when bought in bulk. This cost barrier, however, is expected to come down in the near future, as due to the popularization of virtual reality, powerful headsets are growing more and more affordable. 
Another reason why retail businesses balk at adopting VR is unawareness of the technology itself. Skeptical of unknown things as people typically are, your employees may push back, suspecting VR to disrupt well-established workflows. Customers, in their turn, especially those tech-savvy, may feel anxious about the hardware and VR-enabled experiences.
Education is the key to dispelling employees' and customers' apprehensions. By providing a detailed demonstration of how to handle headset and controllers and use all the features of a VR app in an engaging and accessible format, the brand can ease the end-users' concerns and ignite their interest in immersive experiences.
VR user experience is also a matter of grave concern for retailers, as the technology is infamous for causing motion sickness and fatigue. These negative effects can be mitigated by choosing headsets employing a more sophisticated version of positional tracking called six-degrees-of-freedom, which renders immersive experiences more life-like and comfortable. Other than that, you can also make sure to create short VR experiences, no longer than 20 minutes, to minimize the risk of fatigue setting in. 
Closing thoughts 
The retail industry is no stranger to VR. Over the years, immersive applications have been rendering in-store and digital shopping experiences fun and memorable, helping brands to stand out from the crowd and drive consumer loyalty. VR also helped to streamline business workflows, saving employees' time and effort. 
As the events of 2020 have greatly disrupted the retail landscape, some VR applications turned out unfeasible and were discontinued or suspended for the time being, but others emerged to meet customers' evolved expectations. 
Similar to computer vision in retail, obstacles to VR adoption still exist, but they are minimized due to the technology's advancement and growing popularity, so one can expect virtual reality to become a ubiquitous retail tool soon.