Similar to adopting SaaS, going for Blockchain-as-a-Service (BaaS) allows both vendors and business owners to focus on their operational needs rather than infrastructure tuning and blockchain implementation. This, in turn, means faster release of blockchain solutions, their optimized TCO as well as comparatively quicker ROI.
Using BaaS, companies can ensure greater transparency of data management, make their workflows more secure, and eliminate intermediaries from their transactions. The chance to unlock blockchain advantages without investing in complex deployments attracts more and more enterprises, which translates into the rapid growth of the BaaS market.
The ResearchAndMarkets report on the global Blockchain-as-a-Service market shows that it was valued at $420.5 billion in 2019 and is expected to reach $982.8 billion by 2025, at a CAGR of 15.2%.
Today we will explore BaaS providers in more detail to discover the pros and cons of using them for blockchain development and to find out which BaaS platform is the best fit for specific business scenarios.
Azure Blockchain
Azure Blockchain Service was launched in 2015. Microsoft partnered with ConsenSys and released their Ethereum-based blockchain-as-a-service on Microsoft Azure, helping blockchain developers create public, private and consortium-based blockchain environments using the Azure platform.
Since then, the Azure blockchain suite has evolved and currently includes three big groups of products:
Azure Blockchain Service
Azure Blockchain Workbench
Azure Blockchain Development Kit
While Azure Blockchain Service and Workbench allow businesses to deploy, manage, and scale various types of blockchain networks, including Ethereum-based ones, the Azure Blockchain Development Kit represents a GitHub repository with versatile tools and open-source code for developers to create custom blockchain solutions.
Azure Blockchain gained its popularity owing to a relatively uncomplicated development that can be mastered by specialists without previous experience with blockchain. It's also praised for its scalability, security, and moderate pricing.
More important is that Azure Blockchain can be adapted to a variety of scenarios across industries, including patient records management in healthcare, supply chain and warehouse management in retail, anti-money laundering and KYC workflows in banking, and more.
Another great advantage is that the same functionality can suit small and large-scale workflows. For example, the Azure BaaS platform is widely used for product traceability. Thus, GE Aviation's Digital Group, a global provider of engines for the aviation industry, applies the technology to track the history of production and delivery of every spare part that is used in engine construction, and to follow engines throughout their lifecycle, including rent, leasing, and repair. By turning to Azure Blockchain, the company got the chance to get rid of endless paperwork along with making engines' lifecycle transparent and easily controllable.
The coffee empire Starbucks also uses Azure Blockchain. In their case the technology is responsible for tracing the journey of coffee beans from independent farmers in Brazil, Colombia, and African countries to particular coffee shops in the United States. On the one hand, this helps farmers see how and where their coffee is used. On the other hand, the company plans to extend their mobile app with traceability features to let their customers see the complete journey of the coffee they consume.
AWS Blockchain
Amazon was initially strongly skeptical about blockchain solutions and services, but finally decided to respond to their customers' blockchain needs by launching AWS blockchain services in 2018. These services include:
Amazon Quantum Ledger Database (QLDB)—a ledger database that allows users to control the immutability of application data.
Amazon Managed Blockchain—a service for creating decentralized blockchain applications based on the Hyperledger Fabric or Ethereum frameworks. Depending on the preferred framework, developers can apply available AWS Blockchain Templates.
To launch AWS Blockchain Templates, developers need to deploy the chosen blockchain framework on Amazon Elastic Container Service (ECS) cluster containers or an EC2 instance that runs Docker. It's possible to set granular permissions by utilizing AWS IAM to restrict resources that an Amazon ECS cluster instance or an Amazon EC2 instance can have access to.
The blockchain network is built on the Amazon Virtual Private Cloud (VPC). Blockchain networks can be made and deployed in all public AWS regions. AWS Blockchain Templates are free, however, businesses pay for the AWS resources required to run the blockchain network they have built.
Apart from freeing the owners from the need to deploy their proprietary blockchain infrastructures, Amazon also offers an improved and extended functionality of the underlying frameworks. Thus, Hyperledger Fabric that doesn't typically allow tracking the full transaction history out of the box, gets this capability as part of the Amazon QLDB.
Among the customers already using the AWS BaaS are well-known brands such as T-Mobile, BMW Group, Sony Music, and Nestle. Businesses across industries use Amazon's BaaS to cover various business processes:
Supply chain management (goods tracking, facilitated transactions)
Fintech software development, especially decentralized financial transactions (clearing, settlement, cross-border payments)
Insurance workflow management (claims management, automation, error elimination, fraud prevention)
Identity tracking and compliance
Healthcare operations (health data sharing, patient care improvement, fraud detection)
Oracle Blockchain Platform
Joining the ranks of BaaS providers in 2018, Oracle is yet another big name on the blockchain software market. The corporation offers its proprietary Oracle Blockchain Platform based on Hyperledger Fabric for managing smart contracts and a distributed ledger.
Like other solutions in this category, Oracle's BaaS includes several products that businesses can adapt to their blockchain needs:
Oracle Blockchain Platform Cloud Service for managing smart contract applications and tamper-proof blockchain networks through leveraging ready-to-use code. 
From blockchain in retail to manufacturing to banking, there is a range of industries where Oracle's solution can be useful. For example, a global sports goods retailer, Decathlon used the Oracle Blockchain Platform Cloud Service to launch a blockchain-based customer loyalty program. By earning medals while purchasing products in-store, customers can later exchange them to related products and services through the blockchain app.
Oracle Blockchain Platform Enterprise Edition for launching blockchain solutions on proprietary data centers or third-party clouds.
The solution is the best fit for enterprises from industries and countries with strict data management policies that don't allow them to keep data in public clouds. It is also a good solution for companies that run complex blockchain networks where different segments require their own approaches to data processing and storing.
Volvo Cars chose the Oracle Blockchain Platform Enterprise Edition to track the origin of cobalt used in car batteries, thus ensuring ethical sourcing and preventing the use of pirated minerals. The solution enables providers operating within strict data sharing limits to report data to Volvo Cars without disclosing it to other participants of the same blockchain network.
Intelligent Track and Trace to enable what is known as a smart supply chain and increasing trust between supply chain participants. This functionality lets Oracle's BaaS users take control over supply chains and complex processes they imply, for example, preventing foods from freezing through monitoring the temperature in containers or tracking equipment movements between manufacturers, warehouses, users, and service centers.
Oracle Blockchain Tables for ensuring data immutability. A part of the Oracle Database, Oracle Blockchain Tables allow restricting operations over data by chaining table rows and storing their hashes. Oracle Blockchain Tables can be used in any domain that requires the highest level of data privacy and protection, be it for fraud detection, transaction log tracking, financial and healthcare records control, or verification of data provenance.
We'll help you choose the right BaaS platform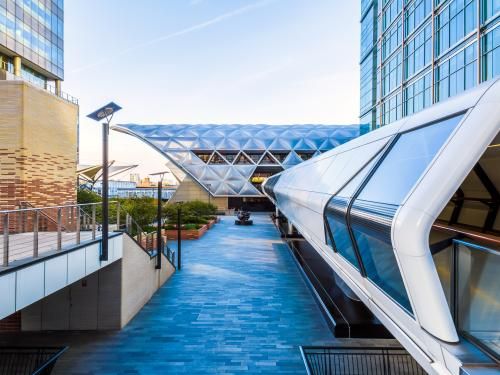 We provide blockchain consulting and development services, helping banking, healthcare, retail and education companies to capitalize on the blockchain technology.
Other BaaS providers to consider
The competition on the BaaS market isn't rampant. However, businesses can find multiple alternatives to the BaaS platforms from Microsoft, Amazon, and Oracle.
Alibaba Cloud BaaS
Another BaaS market giant holding over 60 primary patents for blockchain technologies, Alibaba offers their Alibaba Cloud BaaS that supports blockchain solutions built on top of Hyperledger Fabric, Ant Blockchain, and Quorum. Enterprises that go with Hyperledger Fabric can choose between two modes of Alibaba BaaS:
The quick mode allows companies to operate and participate in a blockchain consortium and add more participants when needed.
The standard mode implies that a blockchain operator can't be a consortium participant but can add other participants and manage the activities within the blockchain network.
Although blockchain use cases are numerous, Alibaba offers four core use scenarios for their cloud BaaS:
Product traceability for achieving maximum transparency throughout the entire product journey while preventing data corruption.
Supply chain financing for securely sharing financial information among supply chain participants, controlling the circulation of corporate funds, and speeding up financial decision-making.
Data assets sharing for tracking data ownership and preserving data privacy across large data sets.
Data content ownership for determining the owners of various types of content and sticking to the fair distribution of rewards.
Kaleido BaaS
Launched by ConsenSys in partnership with AWS, Kaleido is a BaaS platform created specifically for blockchain development purposes. Today, the platform allows building solutions on top of Ethereum and Corda blockchain protocols and offers a variety of features for managing blockchain solutions, associated collaboration, and integrations.
The platform can be a good choice for building blockchain for nonprofits, financial sector, governmental organizations, healthcare providers, and media and entertainment companies. For example, Greenfence is using Kaleido as the basis of their platform that lets world-known brands, such as T-Mobile, Heineken, Sony, and Fox, launch and manage marketing campaigns, engage customers, and improve customer experience.
At the same time, Kaleido has become a solution of choice for the World Wildlife Fund for Nature (WWF) to connect donors, funders, and domain experts and accelerate the implementation of social and environmental projects.
Corda BaaS
R3's product, Corda, is another possible solution for businesses ready to apply blockchain in daily operations. Being an open-source platform, Corda is built as a permissioned blockchain. It means that Corda users don't need to follow all the transactions within their blockchain network but rather keep track of only those transactions they make part of.
Apart from the open-source version, R3 also offers Corda Enterprise for companies that need their independent blockchain solutions ready to be integrated with other enterprise systems and databases.
Initially designed as a solution for the financial sector only, today the Corda platform successfully serves various businesses and covers a multitude of use cases. For example, Corda can be equally effective for managing patient records in healthcare organizations, keeping control of real estate deals, or tracing supply chains in the oil and gas industry.
Decisive factors
Because of the lack of blockchain standards and common approaches to blockchain adoption, choosing a BaaS platform is often based on personal opinions and technological preferences. Intuitively, executives may want to choose platforms specifically created for blockchain development, such as Kaleido and Corda. At the same time, others will stick with proven tech giants like Amazon and Microsoft. Looking at the current state of the BaaS market, it's clear that it will hardly be ever monopolized, so the competition between different providers will always remain.
Such factors as the adoption rate among enterprises, the blockchain network type, and supported programming languages are also important for decision-makers. At the same time, such aspects as the development community size and quality of support are not always objective, especially when a new BaaS provider comes on the scene.